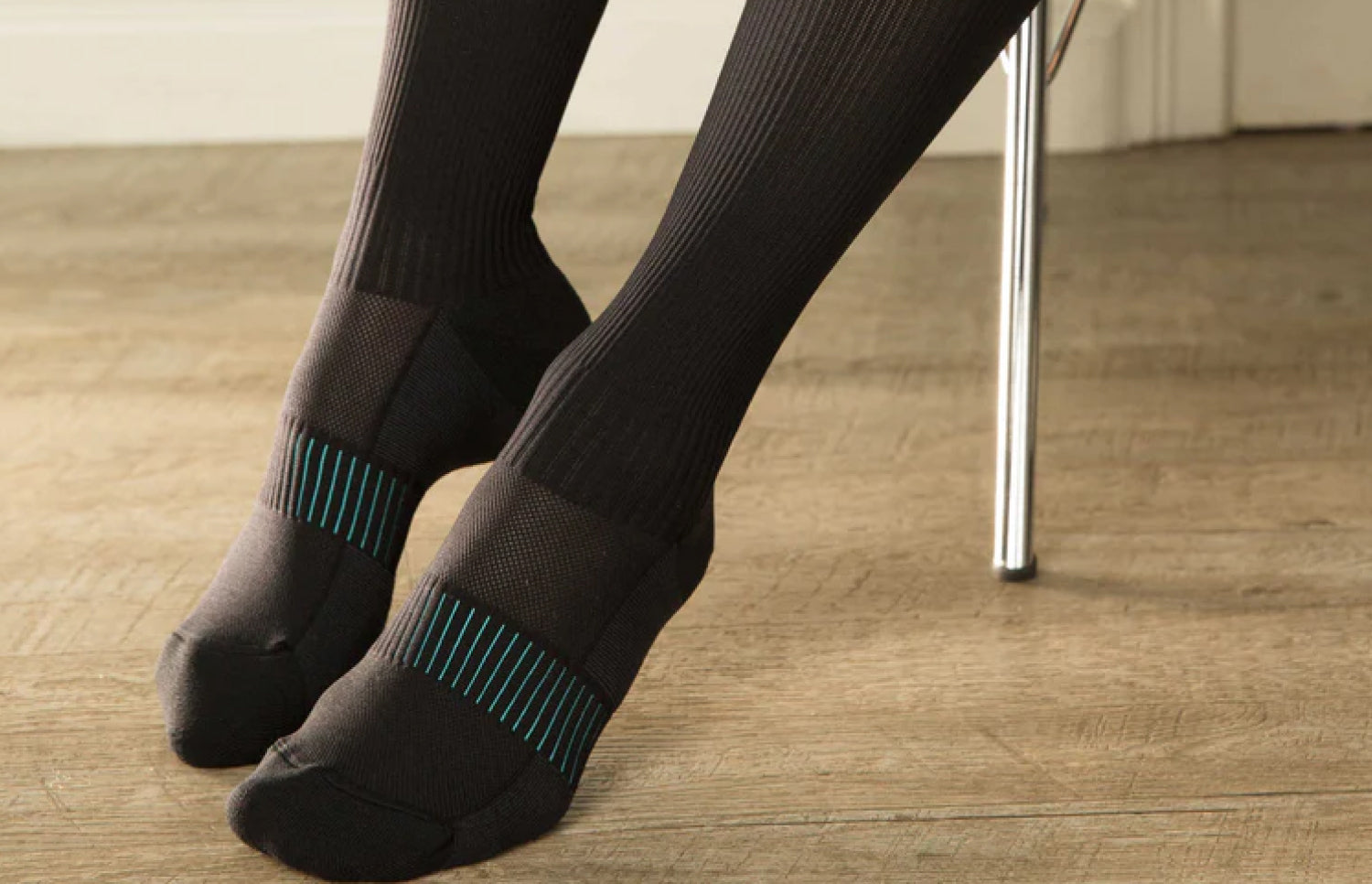 Best Compression Socks for Nurses
Nurses are the champions of the medical field — working long hours on their feet to make the world a better, healthier place. Here at Copper Fit, we support champions by making top-tier garments for optimized performance. 
If you're a nurse, you can find the best compression socks to support you here at Copper Fit. Whether for wearing on shift or for lounging and recovering, we've got the compression socks for you.
What Are Compression Socks?
Compression socks help provide exceptional support for blood flow, muscle recovery, and achy feet. When you are on your feet a lot at work, graduated compression socks can provide extra comfort and help prevent common aches and pains. 
The benefits of compression socks are expansive. The graduated pressure technology gives your blood vessels extra support as they push blood and oxygen from your feet to your heart. This assistance with blood circulation works to support the body's fight against blood clots and assists in balancing blood pressure. 
Compression socks work through firm compression that combats fluid accumulation to soothe swelling. The comfort of gentle compression aids in common aches and pains while working to soothe more serious symptoms of medical conditions like varicose veins, deep vein thrombosis, and neuropathy.
Unlike anti-embolism stockings, compression socks do not need to be prescribed by a medical professional. Working at a lower grade of compression, graduated compression socks are optimized for an active lifestyle. 
Anti-embolism stockings, on the other hand, are designed to support blood flow after surgery or when you are expected to stay stationary for long periods. As a nurse, graduated compression socks are likely more aligned with your lifestyle and needs.
What Kind of Compression Sock Is Best?
Compression socks come in many different compression levels and styles. Choosing the right kind of compression sock for you just depends on what kind of support you are looking for. 
Before we get into the best Copper Fit compression socks for nurses, let's discuss the different factors to take into account when buying compression socks.
Compression Level
Compression level, measured in millimeters of mercury (mmHg), refers to the pressure the socks put on the legs. The higher the compression level, the tighter the socks will feel around your legs and feet, and the more intense the benefits. 
If you are new to compression garments, it is recommended to start at a lower compression before working your way up to a higher level of compression.
Compression levels can be broken down into the following categories:
8-15 mmHg: This light and mild compression is great for comfort and gives gentle, easy support while lounging or walking.

15-20 mmHg: The perfect mid-grade compression to wear to work and promote muscle recovery. This is great for nurses on their feet all day who are looking for extra support.

20-30 mmHg: A high-level, medical-grade compression sock is best if you are looking for next-level support. Like mid-grade compression, these are perfect for nurses on the go, with strong support for rest and recovery. This higher grade of compression is especially recommended for those experiencing swelling or symptoms of vascular discomfort.

30+ mmHg: This extra-firm compression sock should only be worn when prescribed by your healthcare provider to treat certain health conditions.
Sock Style
Whether you choose knee-high, crew socks, or ankle socks, all of our compression stocking options are go-to's for nurses and athletes alike. Choosing the right socks for you can simply be a matter of style preferences, but it can also be an important consideration when managing discomfort and optimizing performance.
If you are mostly looking for that extra support and comfort for your feet while on the go, an ankle sock with built-in arch support may be all you need. Great for shock absorption, these socks are comfortable, all-day wear without the extra length.
If you want extra support for your ankles but aren't interested in the knee-high or thigh-high look, a good crew compression sock will give you all the performance benefits without the extra length.
For maximum support and comfort, wear a knee- or thigh-high sock. Giving that extra support to your calves and shins will go a long way in supporting your overall wellness, whether during recovery or performance. 
If you want to go that extra mile, try a specialty sock, like our ICE compression sock, which is infused with menthol to provide the additional relief of a cooling sensation. Our specialty socks combine the comfort of compression with cutting-edge technology to create the perfect support.
Best Copper Fit Compression Socks for Nurses
Copper Fit makes compression socks with you in mind. Made with durable, moisture-wicking fabric, they are flexible with a 4-way stretch for maximum comfort. Copper Fit has the best compression socks for nurses with various styles and compression levels.
Best Knee-High Compression Socks
Copper Fit's Energy Compression Socks are the best knee-high compression socks for all-around support. These compression socks are made with easy-on, easy-off technology, and built-in arch support to offer a luxurious, cushioned feel. 
Best Medical Grade Compression Socks
Copper Fit's Medical Grade Compression Socks offer next-level support with a compression level of 20-30 mmHg. Experience the benefits of a snug, comfortable fit with supported circulation and soothed aches and pains.
Best Compression Socks for Arch Support
Our Arch Strong Ankle Compression Socks are built with a cushioned footbed to help absorb shock and provide comfort. Alongside compression technology and a new blend of moisture-wicking fibers, these socks provide all the support without the extra length.
Looking for arch support with knee-high compression? Try our Arch Strong Compression Socks for the best of both worlds. These socks provide maximum support and comfort with a built-in easy-on, easy-off feature and arch support technology.
Best Crew Compression Socks
If you want the support of compression socks without the knee-high style, try our Energy Crew Compression Socks. These socks are made with all the cutting-edge technology of graduated compression and are copper infused to reduce odors.
Best Ankle Compression Sock
Copper Fit's Energy Ankle Compression Socks are perfect for feeling extra foot support for comfort, performance, and endurance. If you prefer a more discrete style of sock that tucks into your shoe, these compression socks are perfect for you.
Best Colorful Compression Socks
Who doesn't love a pop of color? With our Energy Compression Multicolor Socks, you can sport fun styles while feeling supported and comfortable. Get three pairs in one pack and never run out of your favorite socks.
Best Cooling Compression Socks
Infused with menthol to release a cooling sensation, our ICE Compression Socks are optimized for next-level comfort and relief. These socks are made with moisture-wicking, copper-infused material and cutting-edge technology to provide maximum support.
Best Hydrating Compression Socks
For a hydrating feel, try our Energy Plus Hydrating Compression Socks. These socks are infused with a patented Motion-Activated Micro-encapsulation Technology that gradually releases moisture as you move. Also infused with shea, vitamin E, coconut, and aloe for a revitalizing sensation, you'll experience next-level comfort with these socks.
Tips for Wearing Compression Socks
Now that you have chosen the right compression socks for your needs, you can enjoy the diverse array of wellness benefits they provide. In order to achieve maximum comfort, ensure your compression socks are on properly and fit well.
Avoid bunching or folding your compression socks. Compression socks should fit snugly and closely to your leg for maximum effectiveness and comfort but should never be so tight that you experience discomfort. Folding over the tops of your compression socks may provide unnecessary tightness at the top of the sock, potentially obstructing blood flow.
If you experience any numbness or discomfort while wearing compression socks, take them off. Compression garments aim to provide additional support and comfort; you should never feel additional discomfort from wearing them. If you do experience discomfort, consider going up a size or down a pressure level to better meet your needs. 
Though you can wear your compression socks any time, changing them frequently and washing them in between uses is important. Wash gently with mild soap and warm water. 
If you find you wear them often, it is recommended that you have multiple pairs of compression socks. This way, you can wash them between wears and have another pair ready to go.
Enjoy the Benefits of Compression Socks
With the right pair of compression socks, you can enjoy a new level of comfort for your legs and feet. With the multitude of wellness benefits associated with their use, they could be the answer you are looking for to address your aches and pains. 
As a nurse, you work long shifts where you are on your feet most of the time. Wear compression socks to experience a new level of comfort and support while you're on the move or recovering. 
Copper Fit uses cutting-edge technology to ensure maximum durability and contouring to your body. Experience on-the-go support with our compression socks, and you won't ever look back!
Sources:
Benefits of Compression Socks for Runners | The Manual
Applying antiembolic stockings and sequential compression devices: Clinical skills notes | Osmosis
Compression Socks: What Are They and Who Needs Them? | Riverside
How to Choose and Use Compression Stockings | WebMD
What You Should Know About Compression Socks | Health Essentials