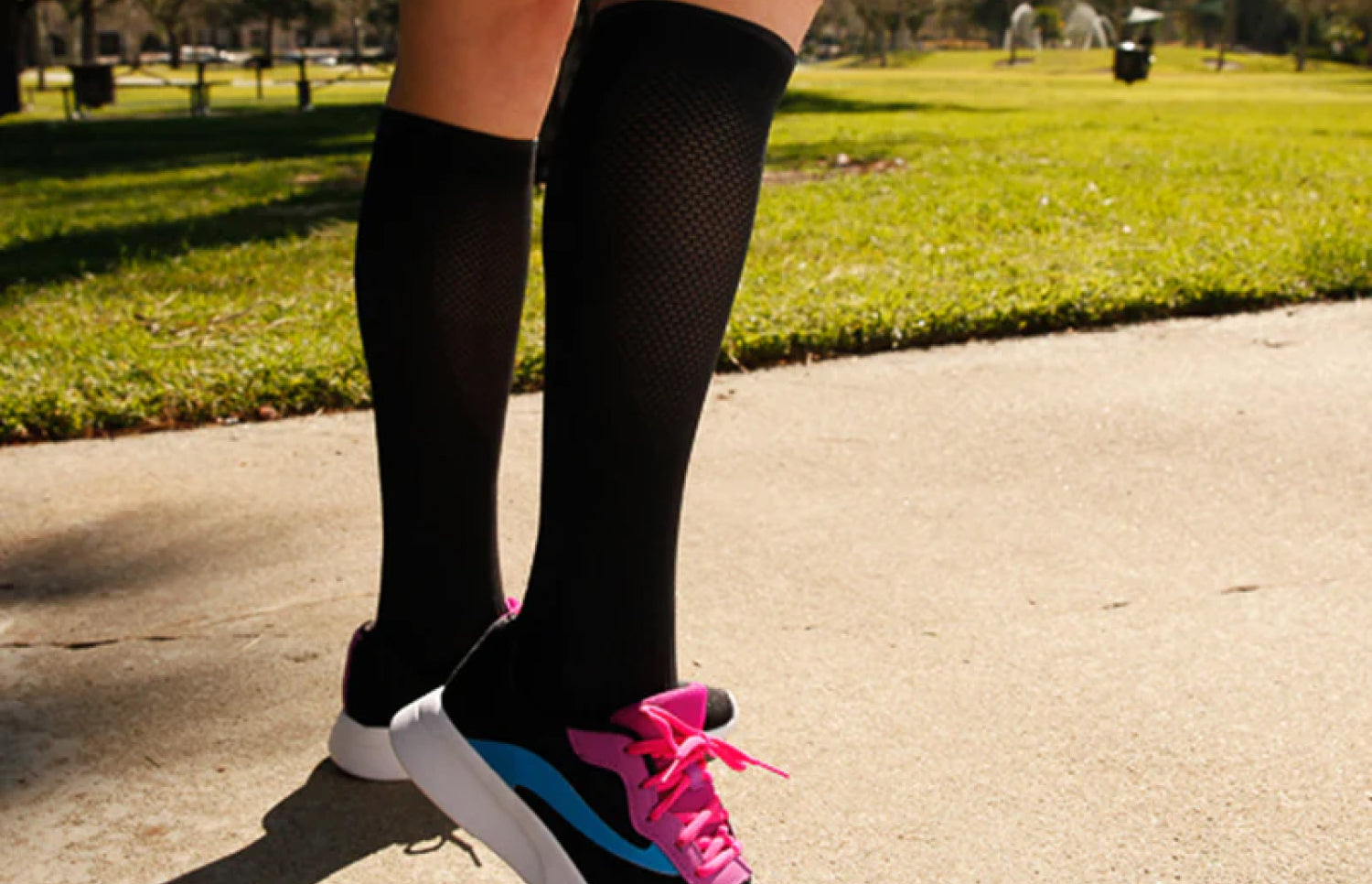 Compression Sock Levels: Understanding mmHg
Compression socks can provide much-needed comfort and support to athletes, fitness enthusiasts, and everyone in between. Whether you work out regularly or simply have to stand forlong periods, some high-qualitycompression garments can help you feel your best.
Before you pick out a pair ofcompression socks, you need to know a few key pieces of information that will help you make the right choice. Read below to learn about compression 101:compression levels, how they're measured, and how to find the right level for you.
What Are Compression Socks?
Before we get into thedifferent levels of compression, we need to get on the same page about whatcompression socks are and what they do.
Compression socks (sometimes calledcompression stockings) support your legs and feet throughgraduated compression.Graduated compression puts varying degrees of gentle pressure on certain parts of your legs and feet, such as your calves, ankles, and arches. The extra support can benefit these areas, especially during and after workouts.
Why Wear Compression Socks?
So, whywear compression socks? One of the best reasons is how comfortable they can be. Evenmild compression provides an extra boost of support that can be absolutely rejuvenating before or during physical activity. 
If you frequently feel uncomfortable and sore while working out or afterward, a pair of high-qualitycompression socks can help. In addition, well-designedcompression socks can help you optimize your athletic performance. 
Compression stimulatesblood flow, helping you avoid some of the cramps, everyday aches and pains, and fatigue that come along with working out. What's more, Copper FitCompression Socks are designed for athletic use, meaning they're flexible, moisture-wicking, and anti-odor.
What Are Medical-Grade Compression Socks?
In addition, whileover-the-counter compression socks can't treatmedical conditions, doctors sometimes prescribemedical-grade compression socks for those with conditions like:
Severe Edema

Blood Clots

Deep Vein Thrombosis

(

DVT

)

Venous Insufficiency

Post-Thrombotic Syndrome

Spider Veins

Hypotension

Ankle Injuries

Diabetes




It's important to note thatmedical-grade compression socks are not a full-fledged treatment for any of the health conditions listed above. However, doctors sometimes recommendcompression garments for patients with these conditions. 
If you have a foot and leg-relatedmedical condition and are thinking about tryingcompression socks, talk to your doctor first!
What Are the Types of Compression?
Compression is measured inmillimeters of mercury, or mmHg for short. Each pair ofcompression socks has its ownlevel of compression, measured in mmHg. Here's what to know about the different mmHg measurements and what they mean.
Mild Compression: 8-15 mmHg
Thislevel of compression is the most gentle option available.Compression socks and othercompression garments within this range can still sootheachy legs but won't have the same strength as highermmHg Compression Socks.
Moderate Compression: 15-20 mmHg Compression
15-20 mmHg is still relatively low in terms of compression levels. This range is ideal if you're looking for a reliable everyday option between gentle andfirm compression. You can findcompression socks within this range in a variety of different styles, including ankle-high,knee-high, and classic crew socks.
Medical Grade Class I Compression: 20-30 mmHg
Thislevel of compression, while technicallymedical-grade, can be a fantastic fit for a variety of people with or withoutmedical conditions. Thislevel of compression therapy is sometimes even recommended to pregnant women to deal with the aches and pains caused by carrying some extra weight.
Medical Grade Class II Compression: 30-40 mmHg
This level ofmedical-grade compression is more intense and could be classified asextra-firm. If you're wearingcompression socks with this mmHg, it's important to ensure they are made from durable materials like nylon, spandex, and polyester. This is because lower-quality, less durablecompression socks in this range can be prone to snagging and holes.
Medical Grade Class III Compression: 40-50 mmHg
This is the highestlevel of compression available. If you're recovering from surgery or have amedical condition affecting your legs and feet, your doctor might recommend you tryhigh-compression socks within this range.
How To Choose the Right Compression Level for You
From gentle compression tomedical compression levels, there are plenty of options to choose from. Follow these guidelines to pick the best option for you:
Choose a compression level that fits your needs.

We typically recommend

graduated compression

to anyone considering

compression socks

as workout wear. These socks provide just the right amount of support to areas like your ankles and arches, which can benefit from a boost during tough workouts. For post-workout recovery, more intense

levels of compression

may be best.




Always make sure you have the right size.

You might feel comfortable with a variety of

levels of compression

, but you'll never feel comfortable wearing socks that don't fit! Before choosing a pair of

compression socks

, make sure they're the right size by referring to a sizing chart. If needed, you can identify your size by measuring your knee circumference.




When in doubt, consult your doctor.

If a

medical condition

or chronic pain is your primary motivation for considering

compression socks

, it's always smart to talk to your doctor before choosing a pair. Your healthcare provider can offer insight about the right

level of compression

and tips for when to wear your

compression socks

for the best results.
What Features Should Compression Socks Have?
Now that you know how to choose an ideal pair ofcompression socks based on the compression level they provide, let's take a look at some essential features that any high-qualitycompression socks should have.
Anti-Odor
Socks tend to stink. It's just a fact of life. That's even more the case if you work out regularly. That's where anti-odorcompression socks come in.
Copper FitCompression Socks are infused with copper, which naturally absorbs odors and keeps them away from your nose — and the noses of others. That means you can feel 10 times more confident when you hit the gym, knowing that you don't have to worry about how your feet smell.
It's worth mentioning that while they feature anti-odor technology, Copper Fitcompression socks still need to be washed after each use! You can make your socks last as long as possible by machine-washing them cold and tumble-drying them on low heat.
Moisture-Wicking
In addition to preventing odors, yourcompression socks should be made from materials that keep your feet from getting excessively sweaty. The blend of polyester, nylon, and spandex used to make Copper FitCompression Socks makes each pair ultra-durable, but this blend of fabrics also makes the socks moisture-wicking.
When you wear moisture-wickingcompression socks, sweat is pulled away from your body by absorbent materials, keeping your legs and feet nice and comfy while you work out. The result is less sweaty feet, increased confidence, and the potential to perform higher in your favorite athletic activities.
Four-Way Stretch
Socks must withstand lots of wear and intense movement, andcompression socks are no exception. Whether you're an athlete looking for compression for post-workout relief or a pregnant mom needing arch support, yourcompression socks should deliver — and be strong enough to handle your demanding lifestyle.
Copper FitCompression Socks have a unique four-way stretch design, making them extra-resistant to rips and snags. That's exactly what you need from a pair of socks, compression or otherwise.
Anti-Chafing
If you run regularly, you know how uncomfortablechafing can be. It's also a common issue around the ankles and calves, areas that are typically covered by socks while running. In many cases, the socks are the cause of the problem.
When you choose the wrong socks for your run, you're putting yourself at greater risk of chafing by increasing the amount of friction between your legs and the socks' material. The problem can be caused by the material used to make your socks or how that material is knit — certain knitting methods can make socks more prone to cause chafing.
Copper FitCompression Socks are designed with an anti-chafe circular knit, which makes them a perfect fit for runners and other athletes. Once you make the switch, you should deal with much less chafing on yourlower legs after even the longest and most intense runs.
Compression Socks To Try
Below are some of the best options for high-qualitycompression socks in a wide variety of styles:
Conclusion
Compression comes in multiple levels, and compression socks come in a wide variety of specialized styles. With so many options to choose from, there's something for absolutely everyone. Choose yourlevel of compression and style of sock based on your personal preferences, lifestyle, and specific needs, and you can't go wrong.
When in doubt, remember that it can never hurt to ask your doctor for their recommendations about thelevel of compression you should use, especially if you have amedical condition that affects your legs and feet.
Sources:
Varicose veins - Symptoms and causes | Mayo Clinic
Chafing: Causes & Prevention | Cleveland Clinic