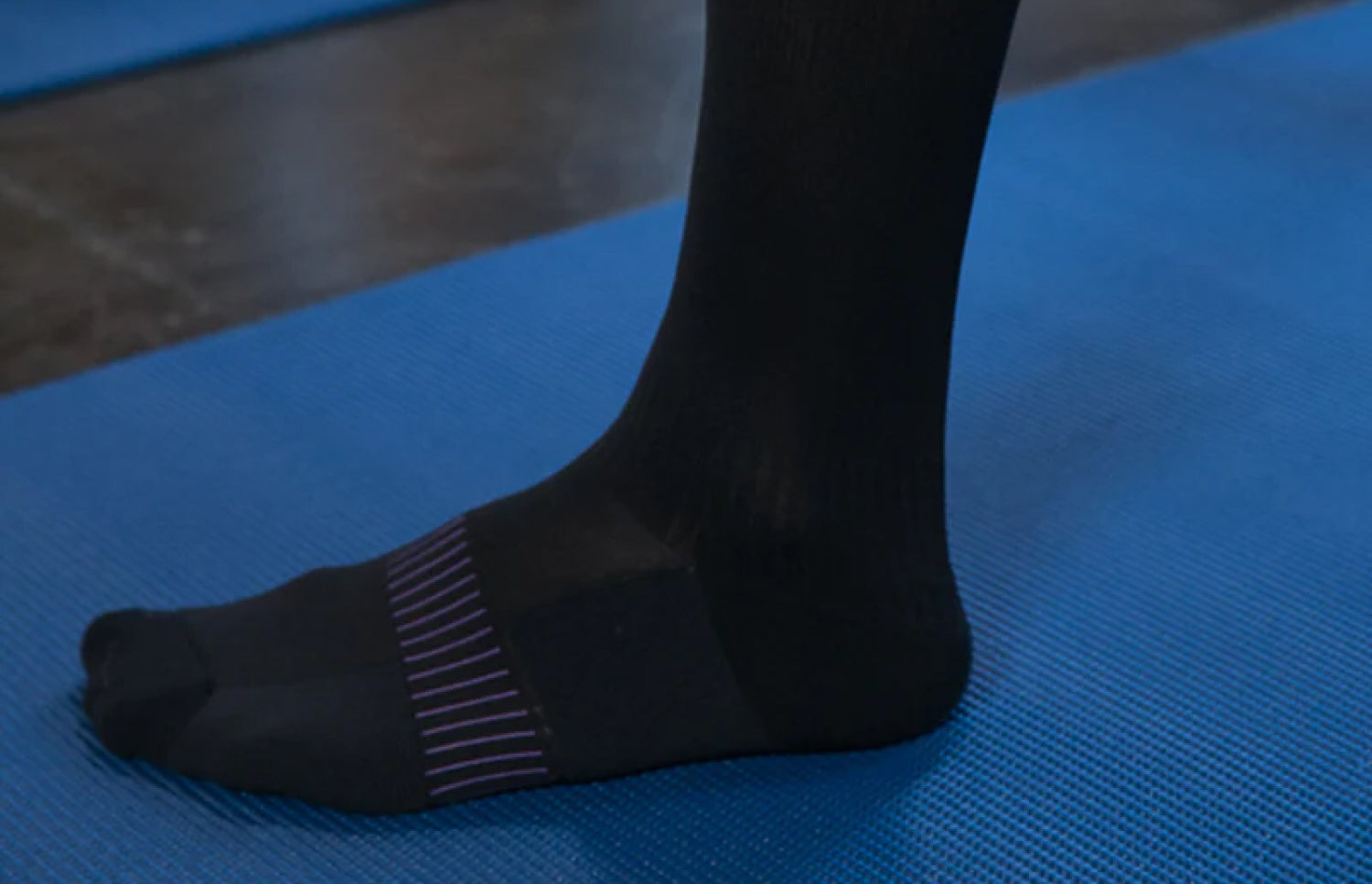 When To Wear Compression Socks for Best Results
Compression socks (sometimes calledcompression stockings) have a variety of big benefits for everyone, from hardcore athletes to stay-at-home moms. No matter what your day looks like, compression socks can help you feel your best and take on your biggest tasks.
Here's what you need to know about when and how towear compression socks, howcompression socks work, and how to find a high-quality pair.
How Do Compression Socks Work?
Compression socks gently compress your feet and legs, providing extra support and relief from everyday aches and pains. These socks can supportblood flow, helping you feel better after crushing a major workout at the gym or going on a long run.
Levels of Compression
Not all compression socks are the same! Some provide lower degrees of compression, while others are more intensely compressing. Thelevels of compression are measured in millimeters of mercury (mmHG). 
These levels can range from lighter (15-20 mmHg) to heavier (30-40 mmHG), often seen inmedical-grade compression wear.
Different Styles and Fits
Compression socks also come in a variety of styles, fromthigh-high stockings to ankle socks. No matter what your personal style or preference is, you can find atype of compression socks that fits you.
Some of the besttypes of compression socks to keep in your drawer include:
Ankle socks

Crew socks

Knee-high

socks




If you want to express yourself while working out, go for a multicolor variety. Copper Fit's Multicolor Compression Socks come in vibrant colors ranging from magenta to teal.
Graduated Compression
Graduated compression is a key element in a compression sock's unique design.Graduated compression refers to varyinglevels of compression at different points in the sock. These points are carefully chosen to accommodate the parts of the foot and leg that need the most support.
How Do Compression Socks Feel?
When wearing compression socks, you don't have to worry about feeling squeezed or constricted. The power ofcompression therapy is how subtle it is, gently supporting your legs, ankles, and feet with just the right amount of pressure. 
As a result, you can expect to feel energized when wearing compression socks.
Who Can Benefit From Wearing Compression Socks?
Just about anyone can get a boost of support and comfort from compression socks. However,compression garments can be especially helpful if:
You work out regularly:

One of the primary reasons to

wear compression socks

is to support recovery after a workout. If you frequently find yourself achy and sore after hitting the gym, it's perfectly normal. However, if you want to get in the gym again sooner, compression socks can help you start feeling your best again.




You sit or stand for long hours:

Compression socks can also provide optimal support if your job requires you to sit or stand in the same place for

long periods of time

. Holding the same position can seriously strain your legs and feet, and compression socks can help you manage physical fatigue when changing your position isn't an option.




You're apregnant woman:

If you're currently expecting a baby, it means you're carrying some extra weight and probably experiencing some extra soreness. If you're feeling fatigued and uncomfortable waiting for your baby to arrive, compression socks may help you get some much-needed relief.




You frequently travel onlong flights:

If you're a frequent flyer, you know how uncomfortable sitting for hours between destinations can be. Compression socks can keep your feet and legs from getting achy and fatigued, making those long travel days a bit easier.
When Should YouWear Compression Socks?
You can wear your compression socks daily without running into any problems, even if you make them your all-day socks. However, it's best not towear compression socks or othercompression sleeves 24/7. 
There are several reasons for this:
It's better not to sleep in compression socks:

While you sleep, it's best to give your

lower legs

and feet a break from compression. Otherwise, you might wake up in the morning feeling uncomfortable.




Compression socks need to be washed after each use:

As a general rule, one of the best ways to practice personal hygiene is to wash your socks and underwear after use. Our copper-infused compression socks are odor-resistant and won't always smell noticeably dirty after wear. However, it's still smart to wash them daily.
Wear Compression Socks During Your Workouts
Compression socks are designed with athletes in mind and are flexible and durable enough to hold up during intense workouts. Whether you're running, weightlifting, or breaking a sweat in another way, compression gear can provide support and help you fight fatigue.
In addition, when you choose moisture-wicking and anti-odor compression gear, you can expect to deal with fewer odors and less sweat while working out. This is another bonus reason towear compression socks when at the gym, playing sports, or doing outdoor cardio.
After working out, you might want to slip out of your compression socks into a fresh, clean pair after a shower. This is one of our favorite ways to practice some post-workout self-care.
Wear Compression Socks After Your Workouts
Some compression socks are designed to be worn after a workout to soothe sore muscles. If you want to get back in the gym and feel your best, consider compression socks on your rest days and during the hours after your workouts.
If post-workout recovery is your number-one priority, try wearing compression socks infused with menthol. These specialized socks provide an intense cooling sensation that feels relaxing for your muscles and can soothe minorleg swelling.
If Necessary, Talk to Your Doctor
In addition, if you're planning on wearing compression socks formedical reasons, it's best to consult yourhealthcare provider before doing so. 
Doctors sometimes recommendgraduated compression stockings as a supplemental form of soothing for the symptoms ofmedical conditions like:
Varicose Veins

Deep Vein Thrombosis

(

DVT

)

Edema

Certain forms of heart disease

Chronic Venous Insufficiency

Poor circulation




However, it's important to note that compression socks can'ttreatthese conditions — they're only recommended as a source of support and comfort. If you deal with any of these conditions, make sure to talk to your doctor about compression socks and whether they're right for you.
What Features Should Your Compression Socks Have?
If you plan on wearing compression socks, you want to find the best of the best. Below are some of the features that any high-quality pair of compression socks should have.
Anti-Odor Properties
Socks get stinky fast, especially when you wear them during tough workouts. Our compression socks are infused with copper, making them resistant to odors and easy to wear at the gym, while playing sports, or while getting in your morning cardio.
When you can avoid stinky feet by choosing the right pair of socks, it's a no-brainer. Opt for a pair of copper-infused compression socks for any workout.
Moisture-Wicking Materials
When you choose the right materials for your compression socks, sweat becomes a minimal issue.
Sweaty feet are just as much of a problem for athletes as stinky feet, but moisture-wicking compression socks make it easy to avoid getting stuck in a pair of sweat-soaked socks. Materials like nylon, polyester, and spandex are ideal.
Flexibility and Durability
Any piece of athletic apparel — no matter how big or small — should be built to last. Top-grade compression socks are no exception. This high-techhosiery should be supremely flexible and durable, able to withstand the force of squats, deadlifts, and 10-mile runs.
The Right Fit
Just likeill-fitting shoes, socks that don't fit well can be extremely uncomfortable and frustrating to wear. You don't want your compression socks to feel like an ultra-tight pair ofrubber gloves, hugging your skin in all the wrong places. 
Use a size guide to find the ideal fit for you, whether small, medium, large, or extra large.
Bonus Features
Sometimes, you just want a bit of extra comfort. Specialized compression socks can give you a truly soothing sock-wearing experience thanks to the addition of features like cooling menthol, moisturizing shea and aloe, and more.
If you're wearing compression socks for post-workout recovery, try ourEnergy Plus Hydrating Compression Socks. These unique socks release motion-activated moisture as you move, thanks to micro-encapsulation technology. 
As a result, you get a revitalizing combo of shea, vitamin E, coconut, and aloe delivered from your socks to your feet without feeling greasy.
The Bottom Line
You can wear a variety of differenttypes of compression socks for an equally wide range of reasons — and at a variety of times!
In general, there are only a few hard and fast rules about when towear compression socks:
Don't wear them 24/7

Don't wear them to bed

Wash them after each use

Ideally, wear them during workouts

Ideally, wear them after workouts




If you stick to these rules, you can't go wrong with compression socks. Take a look at our collection to find a pair that perfectly fits your style and your lifestyle.
Sources:
Blood Clots: What They Are and What They Do | Cleveland Clinic
 Lymphedema | Side Effects of Cancer Treatment | CDC
Does the shoe really fit? Characterising ill-fitting footwear among community-dwelling older adults | PMC