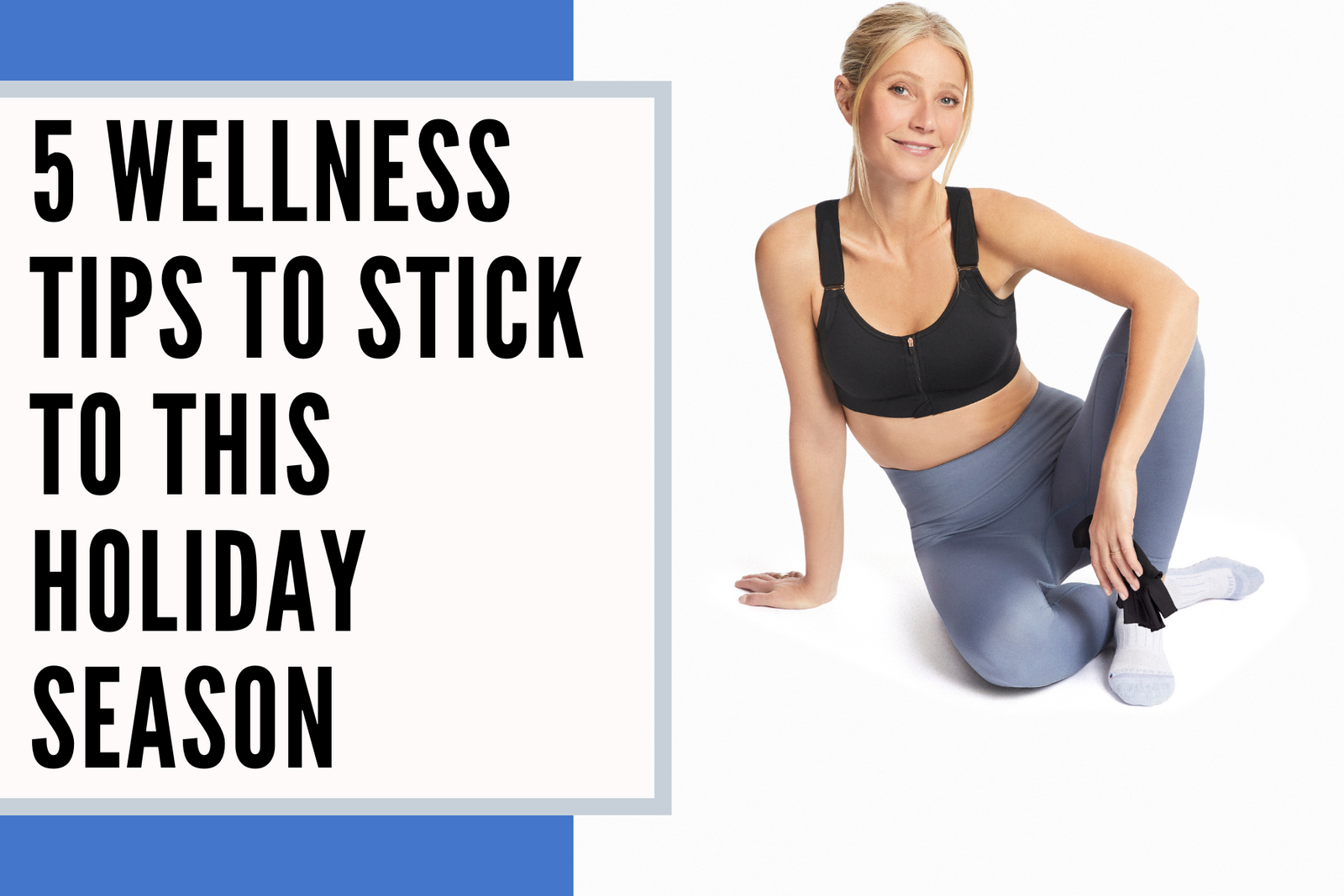 Top 5 Wellness Tips for a Healthy Holiday Season
The holidays make us think of joy and fun. It's also a time that unhealthy habits or the stress of to-do lists can get the best of us. We've got five things for you to focus on this holiday season so that you can feel great, feel connected, and put your best foot forward heading into 2023.  
Don't skimp on sleep!  Sleep is essential for mental and physical health - and one of the primary ways to keep your immune system strong. No one wants to be stuck in bed with the flu and miss out on all the fun! And anyone that walks around with a "foggy head" due to lack of sleep knows that it's vital for brain function - and frankly, joy! Take it from Dr. Michael Twery, a sleep expert at NIH, who says, "Sleep affects almost every tissue in our bodies. It affects growth and stress hormones, our immune system, appetite, breathing, blood pressure, and cardiovascular health." So, take charge of your sleep routine this holiday:
Holiday parties are fun, but clear the calendar for rest days too. You'll enjoy the season more if you get the recommended 7 hours of snoozing a night. 
Commit to your wind-down strategies. Put the screens away an hour or two before bedtime. Drink hot tea, take a bath, and try some gentle yoga. Find a nightly ritual that helps your body relax and welcome slumber. 
Set yourself up for success. Don't overheat - the optimal room temp for sleep is 65 degrees. And alcohol and caffeine are sleep inhibitors. The general guideline is to stop drinking caffeine eight hours before bed and limit yourself to three cups daily. After drinking alcohol, you may fall asleep quickly, but sleep quality is affected -making you tired and sluggish the next day. Limit intake - you'll have a pep in your step and feel your best!
Prioritize exercise. It's easy to put it at the bottom of the list when you're busy, but it's vital for stress relief, a healthy mental attitude, and fitness.
Put exercise #1 on your to-do list. Treat it like an errand or an appointment you need to keep. We often put it last - "I'll get to the gym if I can today." That also means investing in what makes exercise easier and more enjoyable. If you suffer from fallen arches, flat feet, and plantar fasciitis, don't let that stop you. Try Copper Fit's Arch Relief Plus, an adjustable compression band with a built-in adaptive arch orthotic. They are designed to provide compression and relief and fit in almost any footwear. 
Explore fun ways to stay active this holiday season, like sledding and ice skating- even a caroling group! Drive to the popular neighborhood that puts up the most holiday lights, get out of the car and take a stroll.  Find fun ways to mix exercise into your holiday plans. 
Have fun - but schedule downtime. This festive time means events, happy hours, and cocktail parties. Sounds fun, but a full calendar is draining for most of us. Remember:
Rest is crucial to fight off winter colds and flu, fight fatigue and prevent tightness in the body. Rest differs from sleep - it's more about how you decompress in your waking hours. That might mean doing a puzzle, reading a book - or binge-watching reality TV. You do YOU!
It's ok to say no, stay in, and recharge. Put on a holiday movie and cuddle up on the couch with the Rapid Relief Neck and Shoulder Wrap and let the stress, strain, and tension that builds in the neck and shoulders melt away. It sits comfortably around your neck and upper shoulders to provide soothing hot or cold therapy while walking, standing, or sitting. Warm it in the microwave for relaxing heat or pop

it in the freezer for cooling ice therapy

. 
Copper Fit Tip: Schedule a New Year's brunch with a good friend instead of fitting in one more pre-holiday happy hour. It gives you something to look forward to in the (sometimes dreary) days of January. 
Focus on healthy holiday traditions. It's okay to give ourselves a free pass during the holidays to eat, drink and be merry with friends and family. But it's important to find new ways to be merry AND healthy- small changes make a big difference.
You don't have to give up the classic recipes, but sprinkle in some new, healthy recipes and get into the kitchen with your loved ones. The Food Network has plenty of healthy holiday dessert recipes here.  
Swap gingerbread house making (and candy eating) for wreath and garland making. Don't let pain stop you - Copper Fit Hand Relief Compression Gloves fit like a second skin, while the Sure Grip Technology across the palms and fingers provides added power and confidence when doing things with your hands.
Stay connected. The holidays can be challenging for some. Many are missing loved ones or feeling lonely. Here are some tips on finding joy:
Stay connected with others. You don't have to throw a party or host a big holiday meal; just plan a simple walk with a neighbor or a coffee with an old co-worker. If your friend is having difficulty getting out and about, the gift of Copper Fit Compression Socks will surely put a spring in their step. With the blend of new-age fibers, these compression socks offer a luxuriously cushioned foot bed to help absorb shock and a targeted compression band that gently hugs the arch and ankle to help reduce foot and leg fatigue. And maybe greater comfort getting around is just what they (or you) need. 
Feeling connected to others goes beyond holiday joy - it can strengthen the immune system and may even lengthen your life. Reaching out to a friend makes a difference for them - and you too!
This holiday season, simple changes mean you don't have to give up any holiday fun - but you'll go into 2023 feeling stronger and healthier. Let Copper Fit help you get there.