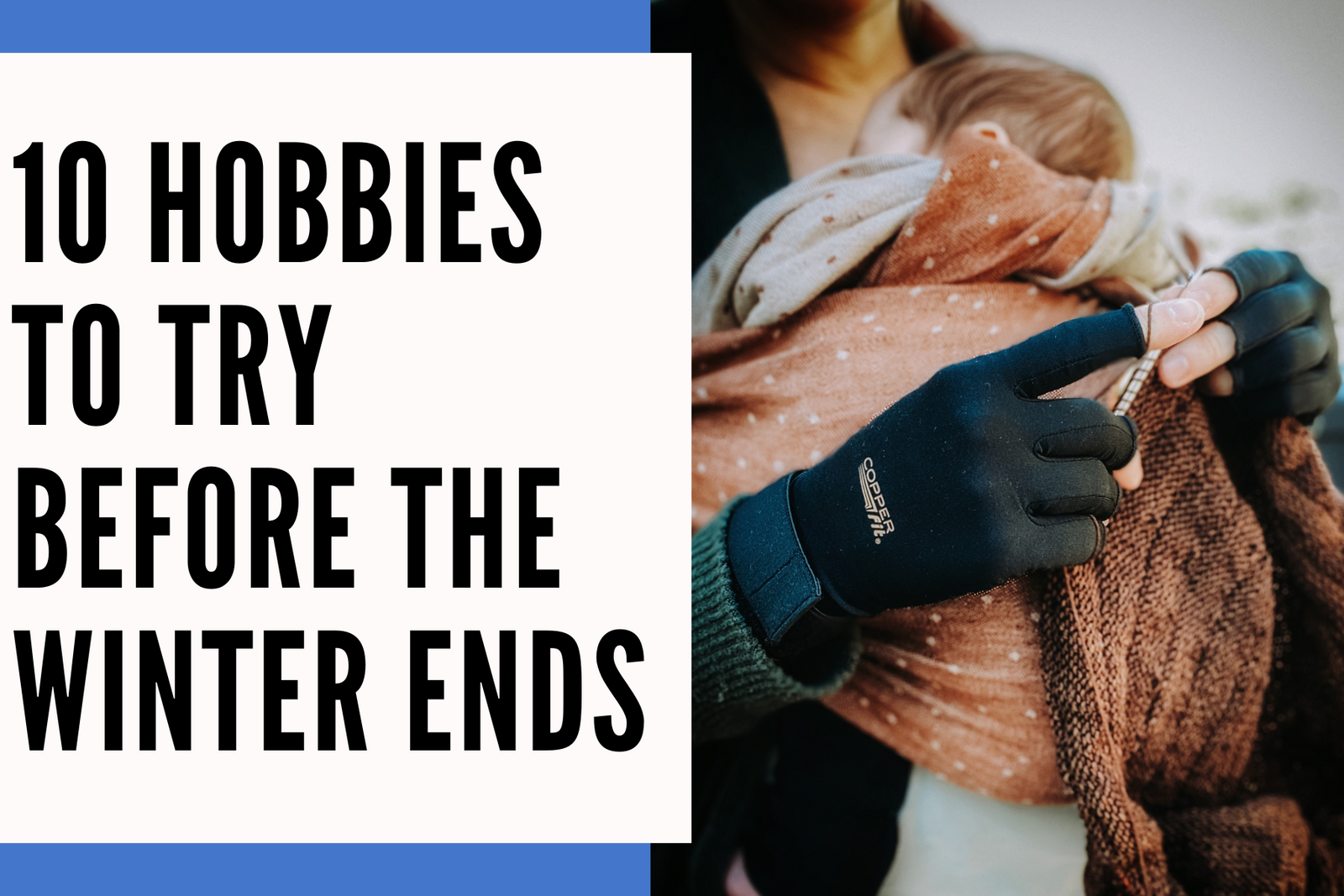 Our Favorite Wintertime Hobbies You Need to Try
Summer gets all the attention for fun in the sun and outdoor activities, but winter is full of beauty, and hobbies take center stage! Now's the time to dive into your favorite hobby or find a new one. Hobbies are good for us, with research showing that you are less likely to get weighed down by stress and have better mental health if you have something you love to do that helps you to relax - and provides a sense of accomplishment. Plus, group hobbies keep us social, and staying connected prevents us from feeling lonely.  Hobbies can also help to create a sense of happiness that may help us live longer. So, what are you waiting for? Today's the day to get going on your wintertime hobby. 
10 Wintertime Hobbies to Try (or Pick up Again):
Knitting: Did you know that studies have found that animals who perform repetitive motions trigger a release of serotonin, the neurotransmitter associated with calmness and well-being? The art of kitting is a relaxation inducer. Creating a knitting group and teaching some friends can also be fun, and it's also an excellent skill to pass on to a grandchild. There are many easy ways to learn if you don't know how; Sheep & Stitch on YouTube is a favorite. If pain in your hands or wrists is in the way of your knitting, try Copper Fit Hand Relief Gloves. They are form-fitting, with open fingers, hugging the hands, and help relieve pain. The compression helps provide support, relief, and recovery from sore muscles and painful joint stiffness in your wrists, palms, and fingers.
Cooking: Winter is a great time to focus on cooking skills. The evenings are long, so why not spend them in the kitchen with a new recipe? The nightly ritual with your partner or time on your own is a great way to decompress after a long day at work. Find healthy favorite wintertime recipes for the pro or the novice online. 
Organizing: We all know how good it feels to have an organized home. It helps you to be more productive and gives you more of a sense of control over your surroundings. Less clutter around you makes your mind feel "less cluttered," too! The act of organizing can be therapeutic, but if it's overwhelming, start with just one small space a day. You'll be hooked, and it can lead to donating items to others in need, which always feels good.  
Hiking: The key to winter hiking: be prepared! It's imperative to check trail conditions before you go, be aware of oncoming weather, and go with a group. For more tips on winter hiking, check out the info here from the Student Conservation Association.  Don't forget Copper Fit Energy Compression Socks. The targeted compression band gently hugs your arch and ankle to help reduce foot and leg fatigue, and they now include new arch support technology to keep your feet and legs going for the long haul.
Yoga:  You must live under a rock to have yet to hear about the many benefits of yoga. The great thing is ANYONE can do it. Group yoga with an instructor is a popular way to dive into a yoga practice with a practitioner who can guide you. But at-home yoga is accessible and easy as googling a class for any level. The benefits go beyond toning, strength, and flexibility. It also helps to manage stress, enables you to sleep better, and much more. 
Crafting: Be the next Etsy star! There are so many ways to craft. Just take a visit to Michaels and see what you are drawn to. The possibilities are endless, from the relaxing art of coloring books to candle making. Stay comfortable while crafting: the Copper Fit Advanced Back Pro is a compression belt with four built-in stabilizing rods designed to reduce stresses and strains to the lumbar region, whether you are beading a necklace or throwing pots. 
Playing an instrument: This hobby passes the time in an enjoyable way but is good for your brain by engaging every major part of the central nervous system. Winter is a great time to reintroduce yourself to an instrument you haven't played in years, or try an inexpensive harmonica or ukulele if you're a beginner!
Skiing: This is one of the most popular outdoor hobbies for a good reason. Enjoy the beauty of nature while sharing camaraderie with friends and getting your cardio pumping too! It's also something that the whole family can do together - grandparents to grandkids. If you are a beginner, definitely start with a lesson. The green runs are lots of fun - and laughs. However, no one raves about how ski boots feel! Try Copper Fit Arch Relief Plus to help your feet stay happier - an adjustable compression band with a built-in adaptive arch orthotic. They are designed to provide compression and relief for the feet - especially if you suffer from fallen arches, flat feet, and plantar fasciitis.
Snowboarding: Snowboarding is more challenging to learn than skiing because you need to balance on one board. But stick with it, and the rewards pay off! One benefit of snowboarding - it's easier to go off-course into untouched snow.
Learning: Learning new things is good for the mind, body, and spirit. Follow your curiosity this winter and learn something new. An excellent online resource is MasterClass. Maybe it's an interior design course before you plan a remodel, or you're tempted to write your own novel. Check out a book at the library, or peruse the brochure for your local junior college. The added benefit is meeting a group of new people with a shared interest.
Be inspired to use these last couple of winter months to enjoy a hobby. It can bring fulfillment to your life, be good for your health, strengthen relationships, and make the countdown to summer go by faster.