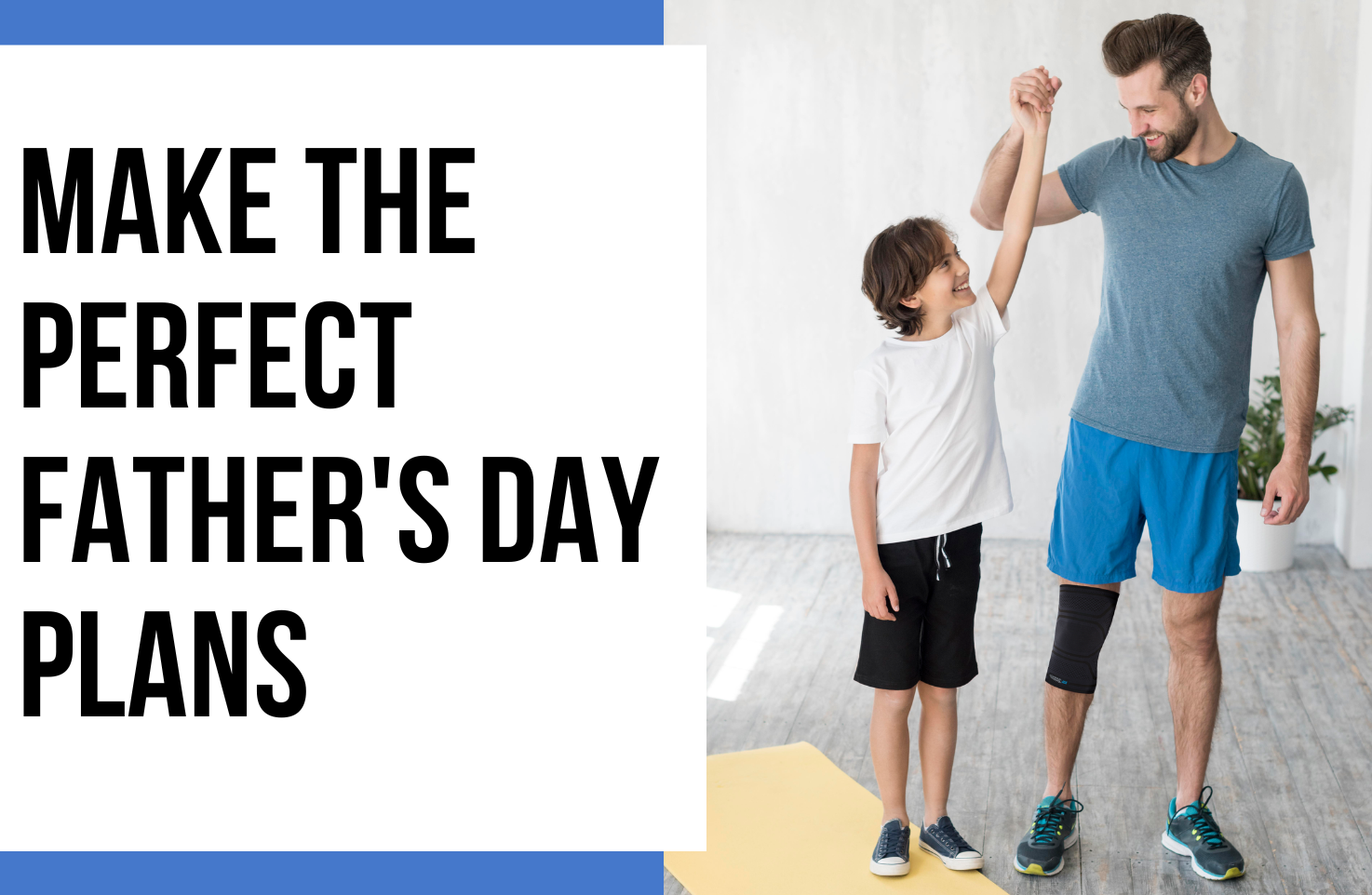 Make the Perfect Father's Day Plans
Whether Dad Wants to Chill Out or Get Active, We've Got the Perfect Father's Day Plans
Take some time to think about how Dad really wants to spend the day this Father's Day. Does he enjoy a day full of relaxation, or will he want to get active - maybe an adrenaline rush? Whether it's a leisurely stroll at "Cars and Coffee" or ziplining with the family, we've got ideas to make it the best Father's Day ever! Don't forget a gift from Copper Fit for maximum comfort and support wherever the day takes you.
Five Active Father's Day Ideas:
Be thrill seekers. 

The possibilities are endless! If you want to surprise Dad, sign up for an intro to rock climbing class at a "rock wall" in your town, then plan a trip to Zion to conquer some natural ones. A zip line adventure is a fun time the whole family can enjoy together- the adrenaline boost will help you make memories. A less active thrill-seeking activity: schedule a hot air balloon ride.

Plan a destination hike. 

Take Dad somewhere he's never been, or start planning it for a future date. Glacier National Park in Montana is the perfect spot in June, the weather is temperate, and the crowds usually come a little later in the summer. With 700 miles of hiking trails, take in the breathtaking alpine scenery and glacier-carved valleys. Pack some Copper Fit 

Energy Compression Socks

for hiking and traveling by plane. They can help with circulation, which can help alleviate leg discomfort and fatigue, reduce swelling and provide muscle support.

Be his workout buddy. 

Take Dad to a workout class he's wanted to try, or that might remind him of his younger years - like a boxing class. Too intense? Try a new workout together - like pilates. Don't knock it til you try it! It's a great low-impact way to work on strength, flexibility, balance, and mindful movement, and regular practice can improve overall fitness. Better yet - buy a 10-pack and meet every week. 

Set up a match. 

Set up a friendly competition with the family, or "framily" (friends that are like family) on Father's Day. Maybe it's just a foursome for some golf or tennis. Or something everyone can enjoy together, like pickleball, croquet, or bocce ball. Buy a set online and make it a fun day outdoors. Don't let Dad say that his sore knee is keeping him out of the festivities - give the gift of support and comfort with a Copper Fit

 ICE Knee Sleeve

, a compression sleeve infused with micro-encapsulated menthol designed to provide more support and help temporarily relieve muscle and joint aches and pains.

Start Your Engines! Everyone feels like a kid again in a Go-Kart. From grandkid to grandpa, everyone can do it! You never know; you might live near one of the "Best Go Kart Tracks in America" - check here.
Is Dad Stressed Out? Five Ideas for the Most Relaxing Father's Day Ever!
Spa day for Dad? Yes, Please! Massage has significant health benefits for men. Besides relaxation, it can ease muscle soreness, improve circulation, ease inflammation, and even lower blood pressure! If spending a day at a spa isn't what your dad wants, find a sports massage option.
Hone in on his favorite hobby. Find a shared passion like old cars and look up the local "Cars and Coffee" - or a rare coin auction. If the traditional art museum is not his thing, maybe a car or spy museum in your area! 
Cheer on your favorite team together. Many sporting events happen on Father's Day, from Major League Baseball games nationwide to Nascar and golf tournaments. Check your town's schedule for something local. It's excellent bonding as you cheer your team on together. Make it an all-day event and tailgate beforehand. If you'll be on your feet cheering, try Copper Fit Arch Relief Plus, an adjustable compression band with a built-in adaptive arch orthotic. They are designed to provide compression and relief from fallen arches, flat feet, and plantar fasciitis.
Connect with the past. Father's Day is the perfect time to walk down memory lane with Dad. Build your family tree together, visit a family member you haven't seen, or plan a trip to dads favorite childhood vacation.
Cheers! Try a brewery or wine tour. Many towns are full of microbreweries - Google your city of choice and look up "brewery bus" or tour. Search your town for new and different ways to do a pub crawl like San Diego's Bar Bike and get some exercise along the way.
Celebrate Dad this year just how he wants to! Whether your dad wants a "relax and chill" kind of day or is up for an adrenaline boost, you can plan the perfect day for him to show your love. And always remember, Copper Fit is the ideal companion for comfort wherever the day takes you.