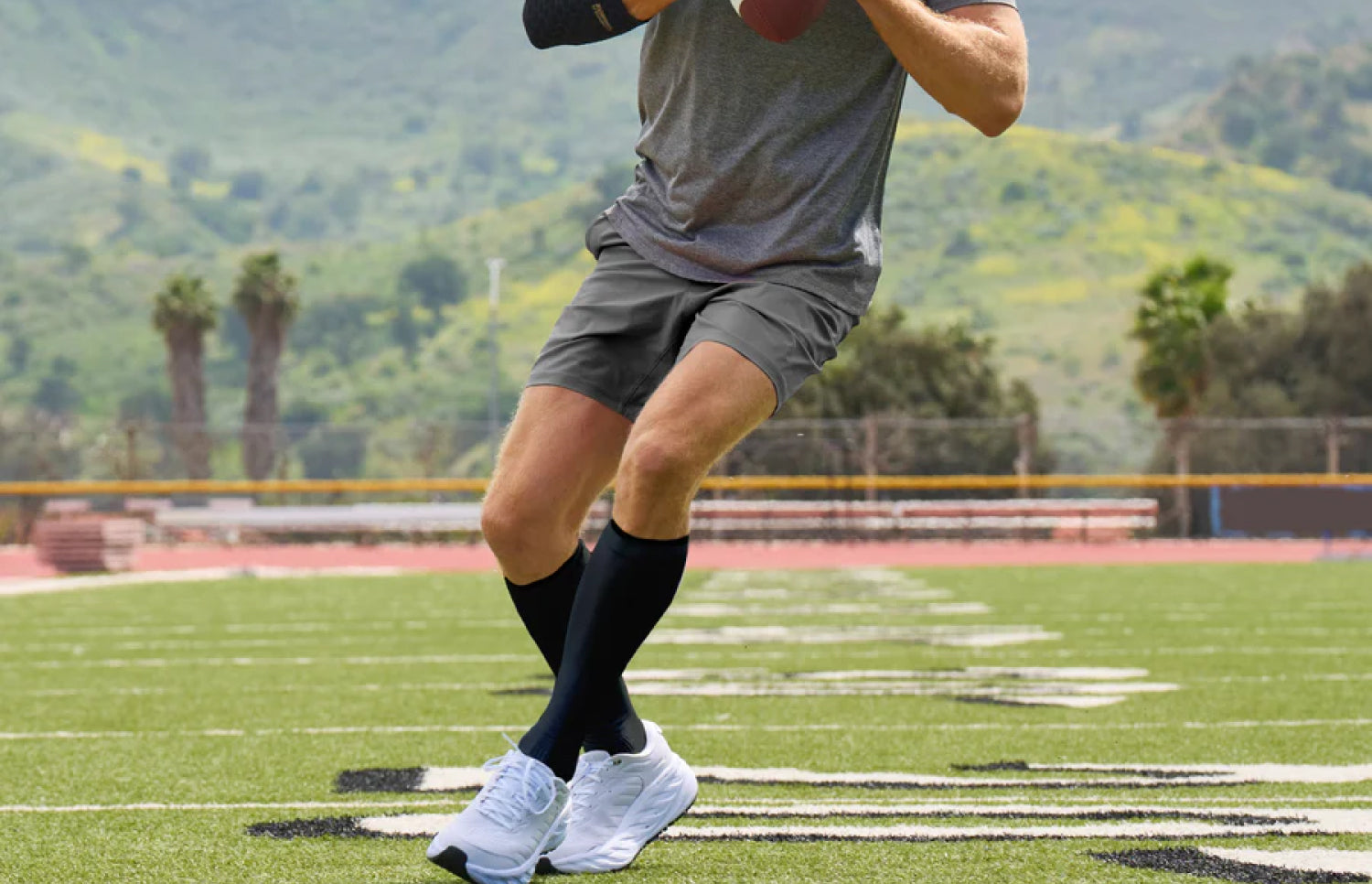 How Tight Should Compression Socks Be?
Compression socks, sometimes called compression stockings, are something any athlete should know about. These specialized socks are designed for athletes and can be ultra-useful, whether running, playing basketball, or doing anything else that gets you on your feet and raises your heart rate. 
One of the most common questions about compression socks is how they should fit. As you might have guessed based on the name, these socks apply gentle pressure to your legs, ankles, and feet, helping you feel your best while you're breaking a sweat. 
Finding the right amount of that gentle pressure can make a major difference in how you feel during and after your workouts.
Let's take a look at some of the essentials of compression socks and how to find a pair that fit just right — not too loose, not too tight. 
Why Wear Compression Socks?
Compression socks were designed to help you maintain steady energy while working out. If you've ever pushed your body hard, you know one of the primary places where you feel the strain is in your legs. Your ankles, calves, and feet all bear some serious weight and strain while you exercise, and it's worthwhile to do anything you can to support these integral parts of your body.
That's where compression socks come in. By gently compressing your legs, ankles, and feet, compression socks provide the ideal amount of support to help feelings of soreness and fatigue. As a result, you might find it easier to get back in the gym, on the track, or on the court after a workout when you wear compression socks.
If you're working out multiple times throughout the week or experiencing a lot of discomfort in your legs and feet after exercise, these specialized socks can make a major difference.
Who Should Wear Compression Socks?
We recommend considering compression socks if you:
Work Out Frequently: Compression socks can offer support if you play a sport or do regular cardiovascular or strength training exercises. The gentle pressure can make you feel more capable of completing your workouts.
Sit or Stand for Long Periods: Compression socks aren't just for athletes. If you're on your feet for hours while working, compression socks may help you feel more energized and less sore during and after the workday. Likewise, if you're sitting down all day for work, compression socks may help you avoid the unique type of fatigue that comes from a sedentary job.
Are Pregnant: If you're currently expecting, compression socks can be a helpful tool to keep your legs and feet feeling their best. Pregnancy puts a lot of strain on your body and means you carry a significant amount of extra weight.
Have Sore Legs Often: If your legs often feel achy and sore after bouts of physical exercise, it's safe to say that you might benefit greatly from compression socks. Soreness may indicate that your legs and feet aren't getting optimal support for your daily activities and workout routine.
How Tight Should Compression Socks Be?
Now that you know why wearing compression socks is smart, here's what you need to know about how they should fit.
First things first: not all compression socks are the same.The best option is always a pair that provides graduated compression. Graduated compression socks provide varying levels of compression to different parts of your legs and feet and are carefully designed for optimal support. Our Energy Compression Socks are a perfect example of this design. 
When choosing a pair of compression socks, look for the same size options you normally wear. For example, if you typically wear medium-sized standard socks, our S/M size will be an ideal fit for you. We use the same sizing model as everyday socks to help you choose the right pair easily. 
In addition, your compression socks should feel snug. The right pair will feel tight but not constricting. Compression socks should never make you feel uncomfortable, cause pain, or cause you to lose feeling. If they do, it's always smart to go up a size.
Why Sizing Matters
We all want to wear clothes that fit well, but the right fit is more important than ever with compression socks. Why is this?
Compression socks work by providing just the right amount of pressure and support. So, compression socks that are too small can feel uncomfortable, and compression socks that are too big can be ineffective. That's why it's vital to find the right size for you to get the most out of your socks.
What Features Should Compression Socks Have?
We recommend looking for all of the following features in your compression socks:
Easy on, easy off: Not all compression socks are easy to put on or take off. Our compression socks are specially designed with a low-maintenance fit, which means you can slip them on and off like any other socks in your drawer. Instead of a pair that takes extra work to put on and take off, go for the easy route.
Arch support: Our socks feature a targeted compression band that lifts the arch of your foot, keeping you comfortable while you run, walk, or stand for long periods. This band is an integral part of our graduated compression design, and it helps you avoid that sore and achy feeling after a long day on your feet.
Anti-odor: No one likes smelly socks, and odor is a big problem for athletic wear. We wanted to make it possible for you to smell your best duringyour workouts and afterward, so we infused our socks with odor-reducing copper. You can count on our compression socks to make you smell better than your competition.
Moisture-wicking fibers: Sweaty feet are another huge issue for athletes. All that moisture trapped in your socks can make your workouts extremely uncomfortable and even make you feel less motivated to get in the gym. Our compression socks are formulated with a blend of moisture-wicking fibers to keep your feet comfy and dry.
Types of Specialized Compression Socks To Try
If you're ready to make the switch to compression socks, we recommend exploring all of the following types:
Arch Strong Compression Socks: These socks were made with arch support in mind. This pair is for you if you often deal with achy, fatigued feet. With extra impact absorption, anti-odor copper, and moisture-wicking technology, these socks will help you feel energized and motivated to give your all.
Ice Compression Socks: If you're dealing with everyday aches and pains after a workout, our Ice Compression Socks can help you get the relief you're looking for. Infused with menthol to cool you down and copper to keep you smelling fresh, these socks provide advanced compression for achy legs and feet.
Hydrating Compression Socks: If you want to feel rejuvenated and revitalized during or after a workout, there's nothing better than our Energy Plus Hydrating Compression Socks. This special pair is infused with shea, vitamin E, coconut, and aloe to keep your legs feeling soft, smooth, and refreshed. Meanwhile, the copper infusion fights odors, and the graduated compression provides optimal support.
How To Care for Your Compression Socks
Our compression socks can last for years when you take good care of them. Here's what you need to know about caring for your compression socks.
Machine wash them cold. Cold water and detergent clean the socks without affecting the material. 
Tumble dry on low heat. Keeping the heat low helps to protect the socks from damage and keep them durable.
Don't use bleach: Bleach can discolor your compression socks and affect the materials that make them so effective. Skip the bleach and use gentler options for stains, such as white vinegar.
Don't iron or dry clean: Your compression socks shouldn't ever need to be ironed or dry cleaned. Simply stick to the basic care instructions, and you'll be good to go.
Conclusion
Compression socks have a wide range of uses for athletes, hard workers, and anyone looking for some leg and foot relief. Thanks to special materials and high-quality design, our compression socks will keep you feeling energized and supported during even your toughest workouts. 
Remember to find the right fit, and you'll be all set.
Sources:
The effects of a moisture-wicking fabric shirt on the physiological and perceptual responses during acute exercise in the heat | NCBI
Why Is Sitting so Bad for Us? | Yale Medicine