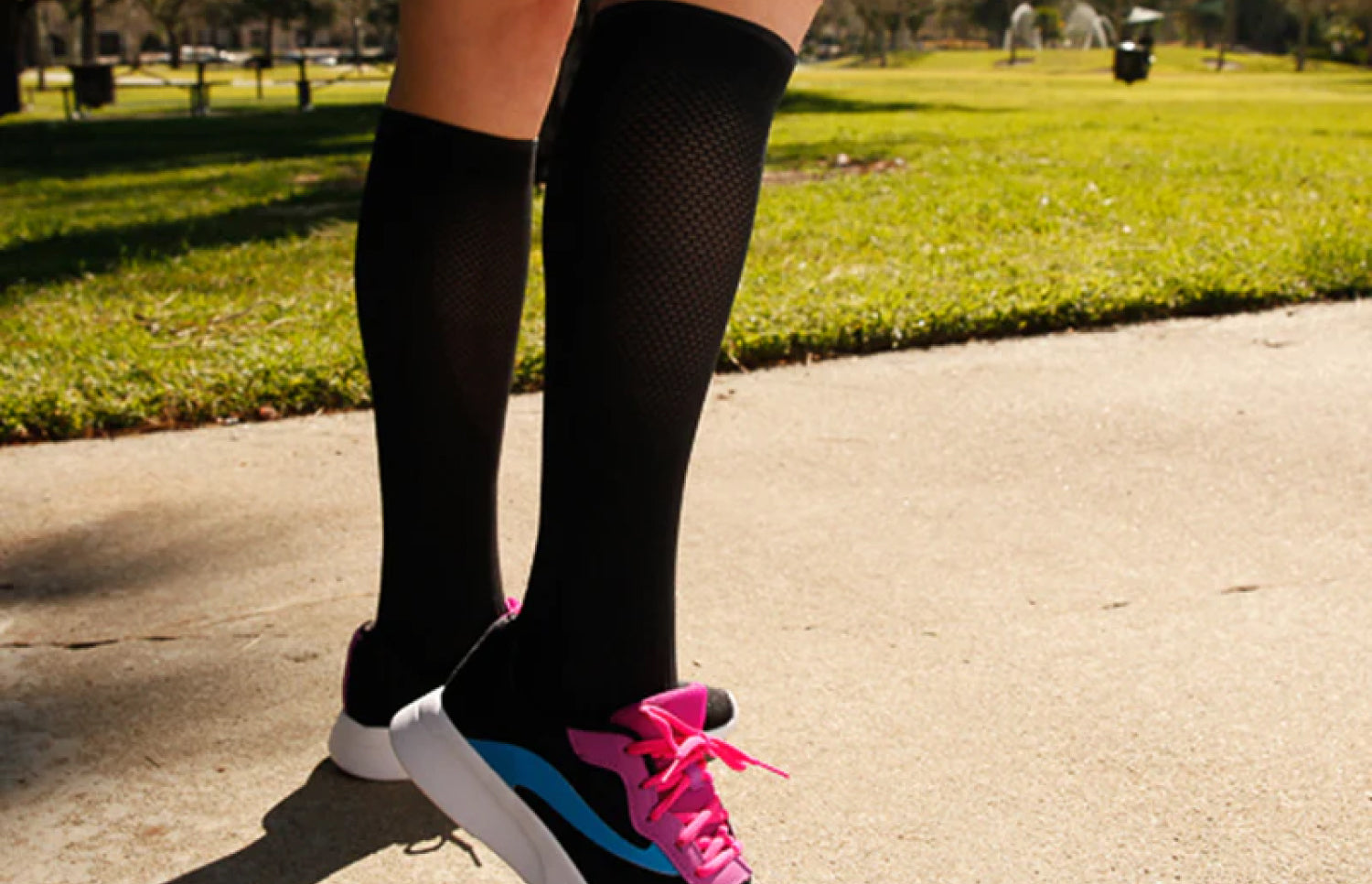 How Long Should You Wear Compression Socks?
Compression socks might be your new best friends if you love to work out but often feel tired and achy afterward. Designed to gently compress and support your legs and feet, compression socks are easy to wear, ultra-comfortable, and long-lasting. 
When you first start wearing compression socks, you might wonder whether long-term or short-term use is best. We're here to answer that frequently asked question for you. Read below to find out how long you should wear compression socks and what to look for in a high-quality pair.
What Are Compression Socks?
Compression socks are specialized socks designed specifically to put gentle pressure on your lower legs and feet. The socks' compression can help you stay comfortable all day, especially during and after working out.
Who Can Benefit From Wearing Compression Socks?
Compression socks can be beneficial for anyone, but they're especially helpful if:
You work out frequently: Everyone should incorporate some physical activity into their daily schedules. Whether walking, running, lifting, or playing a sport, compression socks can help you stay comfortable and feel better sooner after getting sore.
You sit for long periods: Compression socks can also be helpful if you work at a desk and frequently experience foot fatigue. The gentle compression makes it easier to focus on your work by taking the focus off of any discomfort in your feet.
Your feet and legs tend to hurt: If you're noticing frequent aches and pains in your feet and legs, your first move should be to consult your doctor. However, once you rule out any significant causes of your foot pain, compression socks can be a helpful supplement to add to your daily routine. 
Overall, compression socks can benefit just about anyone. Even if you don't currently maintain a particularly active lifestyle, wearing compression socks can help you stay comfortable during everyday activities like work, errands, chores, and more.
Wearing Compression Socks: The Rules
If you're new to wearing compression socks, follow these tips for the best results and all-day comfort.
You Can Wear Compression Socks All Day
Here's the answer to your main question: Compression socks are suitable for all-day wear. You can wear them even when you're not working out or recovering from athletic activity. The gentle compression the socks provide will never be so intense that all-day wear makes you uncomfortable. 
However, it's important to note that wearing compression socks to bed isn't the best idea. Twenty-four hours of compression on your legs and feet won't hurt you, but it can make you uncomfortable. 
When you're done with the day, take off your compression socks and either sleep barefoot or in standard socks.
You Can Wear Your Compression Socks During Workouts
Copper Fit Compression Socks are high-performance athletic wear. Infused with anti-odor copper, they're the ideal socks to wear any time you break a sweat. In addition, these socks are made from high-tech moisture-wicking material, keeping your feet from getting uncomfortably sweaty. These qualities make Copper Fit's Compression Socks ideal workout gear.
Whether you're doing cardio or strength training, compression socks can support you before, during, and after a workout. You can try a variety of types and see which one works best for your workout routine, including:
Energy Plus Hydrating Compression Socks: These socks are infused with moisture from shea, vitamin E, coconut, and aloe and gradually release hydration as you move. If you're tired of being uncomfortable during workouts, these compression socks are for you.
Arch Strong Compression Socks: These compression socks feature new arch support technology, perfect for runners and anyone with flat feet. This innovative tech comes in the form of a targeted compression band, which gently hugs the arch of the foot, lifting it to keep your legs and ankles from getting fatigued.
Arch Strong Ankle Compression Socks: If you're running in the summer months, you might not want long socks but still need arch support and gentle compression. The Arch Strong Ankle Compression Socks are perfect for you. They provide the same innovative arch support while only reaching up to the ankle.
Wear Your Compression Socks After a Workout
There are plenty of reasons to add compression socks to your wardrobe, but one of their most popular uses is post-workout relief. The compression these socks provide can soothe achy, sore muscles and make it easier to get back in the gym sooner. 
If you primarily want to use compression socks as a post-workout recovery tool, consider following this routine:
After you work out, always take a shower. This practice helps you maintain personal hygiene and avoid issues like body odor and rashes.

Towel off your feet thoroughly before putting on compression socks. Copper Fit Compression Socks are easy to put on and take off, but the easiest (and most hygienic) way to wear them is on dry feet.
Wear your compression socks for at least three to four hours after a workout. A few hours of steady compression is ideal if you're trying to fight foot and ankle fatigue after leg day. You can always keep your compression socks on for longer, but aim for at least three to four hours of wear after a workout.
If you're looking for the ideal pair of socks to wear after a workout, we recommend trying menthol-infused compression socks. The cooling power of menthol can soothe aching muscles, releasing a relaxing sensation to help you handle everyday post-workout pains.
What Features Should Compression Socks Have? 
It's one thing to know how to wear compression socks; it's equally important to know which compression socks to wear. 
If you're in the market for your first pair of compression socks — or a brand-new pair that you hope will last longer than your previous choice — we're here to help you pick. Choose compression socks that include all of the following necessary features.
Anti-Odor Properties
Working out produces sweat, which can, as we all know, lead to body odor. For many people, sweaty feet and working out go hand in hand, which can lead to some awkward experiences at the gym. 
If you're tired of smelly, sweaty socks, you need a pair infused with copper. Copper's incredible anti-odor properties make it a game-changer for anyone with sweaty, stinky feet. By controlling odors, copper makes it easy to maintain your confidence in the gym and focus more on pushing yourself and less on how you smell.
It's important to note that while copper-infused compression socks tend to smell significantly better than other socks, they still need to be washed after each use. Machine wash your compression socks cold on a gentle cycle, then tumble dry on low heat, also on a gentle cycle. Avoid using bleach, ironing, or dry cleaning your compression socks.
Anti-Chafing Knit
This one goes out to all the runners out there.
Chafing is horribly uncomfortable and can keep you from your favorite activities for days when it sets in. If you've ever run in the wrong socks, you know how painful the results can be. 
To avoid chafing while running, wear the right pair of socks. Copper Fit's Compression Socks are made with an anti-chafing circular knit and designed with runners and other athletes in mind. We know how tough it is to avoid chafing, but it's an issue you'll never have to worry about in these socks.
Maximum Flexibility
If you want to wear compression socks for several hours, the pair you choose must be ultra-flexible. Look for a pair of compression socks designed with four-way stretch technology. 
These socks will maximize your mobility and make it easier than ever to optimize your performance in the gym. Whether lifting, running, doing HIIT, or playing basketball, four-way stretch is a game-changer.
Moisture-Wicking Material
While odors caused by sweat are big problems for athletes, the sweat itself can also be a major inhibitor. When your socks get sweaty, it's significantly easier to lose motivation to keep pushing yourself in the gym. That's why moisture-wicking socks can make such a major difference both in comfort and performance.
Copper Fit Compression Socks are made with a combination of nylon, polyester, and spandex, making them ideal for wicking away sweat and moisture. If you're tired of losing your flow in the gym, moisture-wicking socks like these can help you keep at it. 
Conclusion
Compression socks are easy to wear and provide plenty of support and relief for your feet and legs. In general, you can wear compression socks all day without any issues. However, it's always wise to take off your compression socks before bed and wash them after each use. 
If you prefer short-term use of compression socks, the best times to wear them are during and after workouts. When working out and recovering from intense physical activity, your compression socks can help you stay comfortable and confident.
Sources:

Benefits of Physical Activity | CDC
Leg pain after prolonged standing or sitting: A concern? | Mayo Clinic