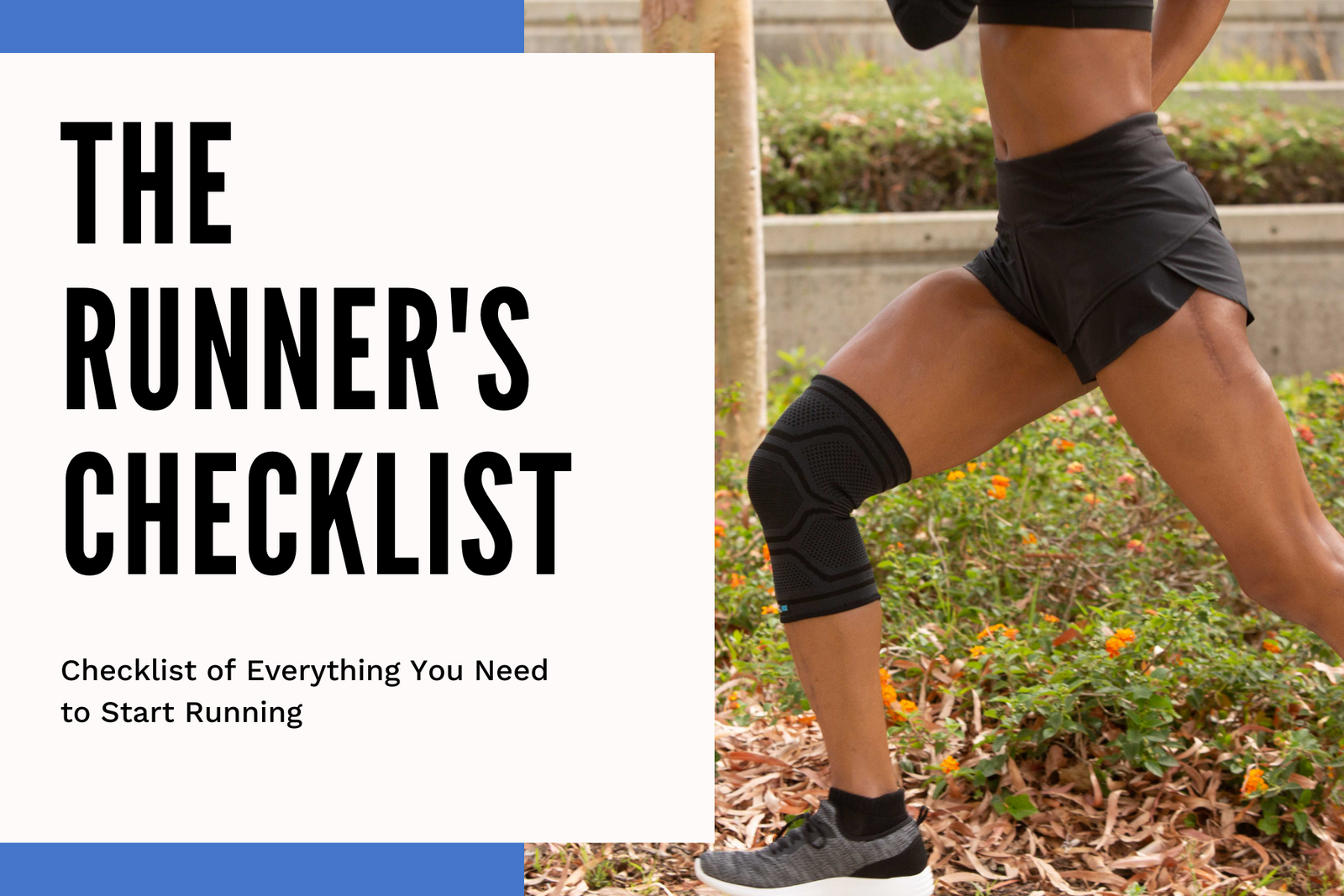 Checklist of Everything You Need to Start Running
Whether you are a teen, 22, or 55, there comes a time in life when almost everyone tries running. And why not?!
Reasons to try running can include better health or chasing a goal; for almost anyone you know who runs, it brings a huge sense of accomplishment, gets those endorphins pumping, and helps you meet your fitness goals. 
Beyond that, there are SO many reasons to try running.  Here are a few of our favorites:
Why Run? 
You can do it anywhere, anytime. 

It's the best excuse to eat more carbs!

It burns more calories than any other mainstream exercise.

Boosts your mood - runners are healthier AND happier than their sedentary peers.

It's free.

It makes you smarter as you age: aerobic exercise can reverse age-related grey-matter loss in the hippocampus.

You'll sleep better.

You get the "runners glow" -  sweating clears pores and releases toxins.

It keeps your weight down.

Regular running can reduce your risk of long-term illnesses, such as heart disease, type 2 diabetes, and stroke.

Provides excellent energy bursts when you're feeling sluggish.

Improves memory: According to research published in the journal Neurobiology of Learning and Memory, running helps the brain stave off the memory-damaging impact of chronic stress.

It helps to build relationships - running partners get to know each other, the flips side of this - many people love running for peace and solitude and the chance to connect with their thoughts.
And here's the thing - you don't ONLY have to be a runner. Cross-training the body with a mix of cardio, stretching, strength, and mindfulness is truly the best way to achieve overall mind and body fitness. It's very complementary to any other workout.  Take it from Gwyneth Paltrow, she mixes it up with Tracy Anderson, Yoga, running, and more, and you can just see her healthy, glowing results. 
Ready to Run? Here's how to start:
The biggest thing you need is a willingness to run and a great attitude! You got this! One foot in front of the other, start small, and celebrate your success, even if it means running to the end of the block.
This quote from Bill Rodgers, Four-Time Boston Marathon Champ, is a great place to start on your running journey: "The advice I have for beginners is the same philosophy that I have for runners of all levels of experience and ability: consistency, a sane approach, moderation, and making your running an enjoyable, rather than dreaded, part of your life." 
FIRST: Check in with your body. If you haven't moved much at all over these past couple of years, or you are recovering from a significant injury or health issue, check in with your doctor. They might have some advice or precautions. Perhaps a smart watch can help you monitor your heart rate to make sure you don't over do it.
But don't let minor aches and pains keep you on the sidelines! A knee support can  help alleviate pain or provide support for the knee's stability. Copper Fit's Rapid Relief Knee Wrap has fast-acting, 2-in-1 relief built right in, giving all-day support exactly where you need it with a removable gel pack that remains pliable for maximum surface coverage. Heat therapy is typically used for injuries or strains that are more than one day old, and cold therapy is typically used for recently injured or inflamed injuries or strains.
SECOND: A good attitude is everything!  Running is a mental sport - your performance will improve if you approach it positively. So set yourself up for success: get a good night's sleep, fuel yourself with the right food, and know that the run will pump up your body with the "runner's high" endorphins, and it will all be worth it!
THIRD: It's time to make a plan. Most experts recommend that running three to four days a week is a great place to start and just about 10-15 miles per week. Incorporating a rest day or two is essential for recovery as your body adjusts. Without rest, you risk injury and burnout.
Here's what you need: 
A goal!

Many people like to have a "deadline goal" to stay motivated. Find a local 5k or 10k a couple of months away and sign up with a friend. It's ok to start small, so your goals are achievable and motivate you to keep building. Maybe you simply want to be able to run to the end of the block or four times around the track. 

A training plan:

There are many training plans online to help you plan your runs and maintain realistic goals. If you are brand new to running, this 

8-Week Beginner's Walk-to-Run Program is a great place to start

. 

A good running shoe:

The most crucial running tool you need! They protect the runner from injuries like 

shin splints

, back pain, blisters, Achilles tendon problems, or 

toenail issues

, so the right fit and support are crucial. An excellent place for a beginning runner to start is with a 

gait analysis

. 

It is an assessment of how you run, focusing on your stride and how and where your feet land. Knowing your gait helps to match up with the shoe that provides the ideal support that you need.  And take care of those feet! You need them to stay strong and happy! 

Here

are some tips for nurturing them. 

The right clothes: 

Clothes that are comfortable with technical fabrics that wick sweat away from your skin and dry quickly are ideal! The athletic fit and four-way stretch allow for a full range of motion. 

Copper Fit's Men's Short Sleeve Crew Neck

 is just that: it's cut from breathable fabric that's moisture-wicking and quick-drying to keep you dry and cool. Top it off it with a pullover if needed: layers are great for running, as you will undoubtedly heat up! A lightweight, showerproof, and wind-resistant jacket or pullover that can easily tie around your waist is great for a cold morning run that might heat up once the sun comes out. 

Leggings

with a "second skin fit" are ideal for colder days. Many prefer running shorts that are light, soft, allow airflow, and you'll avoid any rubbing or sore spots. 

A blister-fighting plan: 

Socks are essential to runners! 

You want comfortable socks that keep your feet warm and dry. 

Copper Fit Cushioned Ankle Energy Socks

 do all that, plus they have an arch compression band for gentle lift and support. 

A running buddy:

 Running with a friend keeps you accountable and motivated. Plus, you build relationships when running. It's a win-win! Meeting up with someone is the best reason to get out of bed on those chilly mornings that you just want to press "snooze."

A good set of stretches: 

Dynamic stretching before a run gradually increases motion, circulation, and muscle length and warms up muscles to help prevent injury. It involves performing gentle repetitive movements like a side lunge or an arm swing. After a run, taking the time to stretch helps the blood flow, removes the lactic acid around the muscles, and improves recovery.

A running belt with an easy to access water bottle compartment:

You need to stay hydrated for your health for any physical activity. First, make sure to hydrate about 17-20 ounces 2 hours before the run, and while running, drink 5-10 ounces for every 15-20 minutes you run, and of course, hydrate after too. Drinking water "on the run" means finding a water bottle for you.  Some runners like a running belt that holds a water bottle. Other's prefer a hand help water bottle with a strap around your hand. If you start doing longer runs, you'll have to see what options work best for you.

Inspiring music with comfortable headphones:

Especially for those days that you aren't feeling like heading out for your run, you need a playlist that motivates you! A recent study published in 

Medicine & Science in Sports & Exercise

found this: subjects doing a strenuous cycling workout produced more power and had a stronger turnover rate when listening to their favorite music. 

Start your list today, and it may be the most important component to a good run!
Now that we've put all the info you need in one place, it's time to get out there and run! Create a big goal or small. Maybe you want to do a run/walk combo. Whatever you do, chances are, you won't regret it!