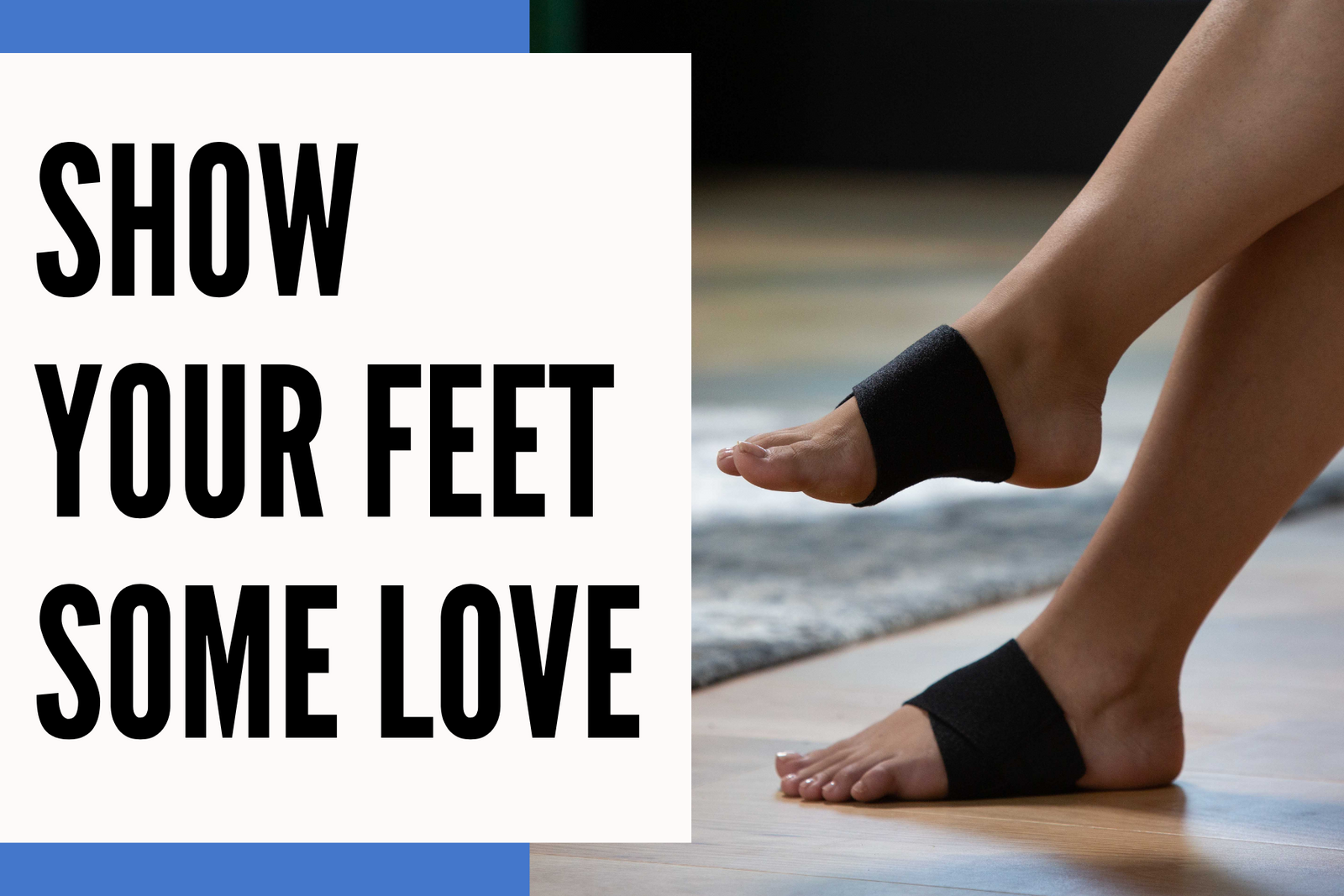 Blue Reef Productions
Let's give some Valentine's Day love to...our feet! 
Sounds funny, but when you stop and think about it, our feet are pretty incredible and very worthy of some pampering.
Every step we take involves a super complex network of 26 bones, over 100 ligaments, tendons, and muscles, and 30 or so joints.
Just one step means our feet have to: absorb the shock when they hit the ground, be flexible to maintain balance on uneven surfaces, and provide the "spring" to take each step forward.
And they have to do this a lot. They help us climb mountains, run marathons, and dance in high heels until 2 am! You and I will probably log about 75,000 miles on our feet by the time we are 50.
So let's lavish our feet with LOVE! 
1. Support them. Comfort and support are key- for us and our feet! We know that some nights call for heels, but in general, if you put your foot in a shoe daily that provides the proper support and arch, your feet will be good to you for years. Think of it this way- if your shoe is not fitting right, it starts hurting you, and you don't walk with your normal stride, and now you have a misalignment of your bones. This can cause problems throughout the whole body- the knees, the spine, all over. Then- you might exercise less, can gain weight; it's a whole vicious cycle. So shoes with good support are critical, but for even more outstanding support, especially if you are experiencing swelling, try Copper Fit easy on/easy off Compression Socks. They have graduated compression that can reduce swelling and increase circulation- which means more comfort! 
2. Ahhh… Pedicure. I love a pedicure. It's like a mini version of a spa day. It's not just about the nails, but also the warm soapy soak and the leg massage. Don't feel guilty because the massage is good for your blood circulation to help prevent things like pain, arthritis, and even varicose veins! Keeping the cuticles happy, clean, and trimmed is essential for toe health, too- and freshly polished toes make you feel good all over. 
3. Don't skimp on the socks. I think most of us are guilty of putting on old worn-out socks with holes in the toes and zero comfort. Copper Fit Energy Socks have cushions that keep your feet supported and comfortable and have arch compression support too. These socks are copper infused which makes them odor-reducing, so an excellent gift for your teenage son or husband! Gwyneth Paltrow makes socks fun with her new colorways launched in her Gwyneth Paltrow x Copper Fit Energy Sock collection.
4. Crocs over flip flops. Ok, this is a controversial one! So sorry, but flip-flops are hard on your feet. They don't provide enough arch support and wearing them creates instability and places excess demand on tendons, leading to tendonitis and more. So, for your next vacation, find a cute pair of sandals with a strap and skip the flip flops. Your feet won't have to work so hard, and they will thank you later!
5. Arch support all the way! I have a go-to for most foot pain - Copper Fit Arch Relief Plus. It's an adjustable compression band that's super easy to wear. It just fits around your foot, then you slip your foot into your shoe and go. It's designed with built-in adaptive arch support to help with foot pain. And here's the thing, this band helps for not just one kind of foot pain but helps with fallen arches, flat feet, heel, toe, ball of the foot or bunion pain, plantar fasciitis, arthritis, and heel spurs. It does it all.
6. Feet love tennis balls. If you have heel pain, there's an 80% chance it's plantar fasciitis. Try this to help keep the plantar fascia loose: roll out along the bottom of the foot on a tennis ball.  It will loosen up the tissue and help with pain and inflammation too! 
7. And feet need warm baths too! Here we are in the middle of winter, and brrrrrrr! How does a warm foot bath sound? Not only does it sound completely relaxing but throw some Epsom salt in there, and now you have a superpowered foot bath that can improve circulation, ease pain and cramps, and may even help prevent blood clots. Treat your feet!
8. Tame when inflamed. We all need some extra support some days. When your feet are injured or strained, please don't ignore them! They need you! That's when it's time to bust out the Copper Fit Rapid Relief Ankle & Foot Wrap. It even has a gel pack so you can use it for support while providing hot or cold therapy. It works double time!
9. Find someone in your life that can give you a great foot massage. Partner? Parent? Not only is this one of the best all-time de-stressors, but it can alleviate swelling, improve circulation- and set you up for the best night's sleep! Take it from me. And remember all those bones and joints in your feet. They could use the TLC. 
Copper Fit Tip: No fancy lotions needed! Warm olive oil or coconut oil can be beneficial for inflammation caused by foot tendonitis. Just head to the kitchen.
10. Goodbye Dry! For dry and cracked heels: greasy is good. I think this has been passed down for generations. Get petroleum jelly on your feet, put on some cotton socks, and say nighty-night! Let your feet get their beauty sleep!
Bottom line: be good to your feet, you only get one pair, and they need to make the long haul - 75,000 miles +! Treat them right, and they'll be good to you, too!