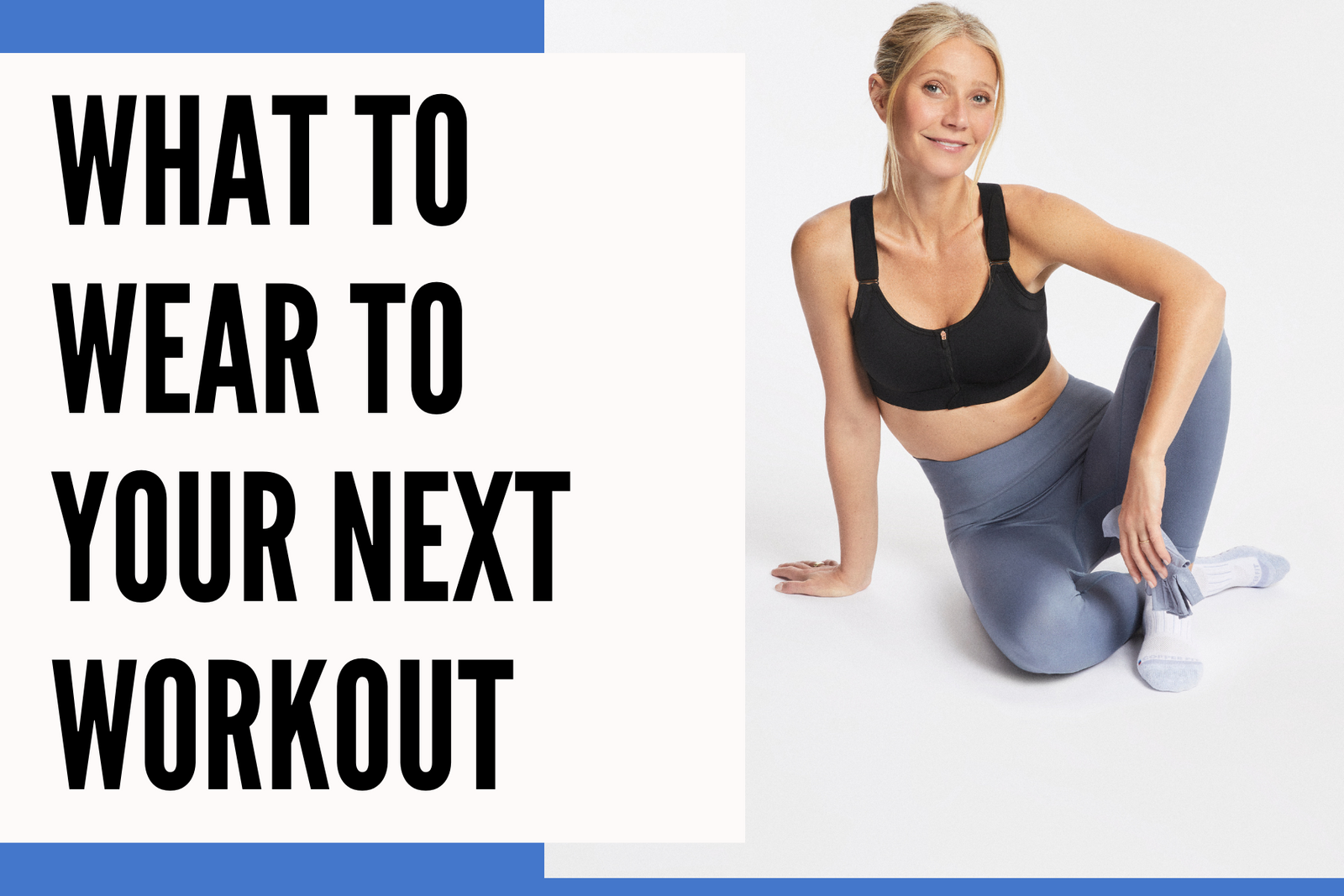 Coliena Rentmeester
Let's Get Physical!  Workout style sure had changed over the years. We've come a long way from Jane Fonda's Danskin leotards to 80s velour matching sweats to today's all-day-long athleisure wear. 
As materials and technology get better and better, workout clothes become more comfortable and look better.  Dressed up or down, you can wear your leggings to Pilates, throw on a leather jacket, and head out for the night. What makes this possible is not just the versatile, streamlined looks for day to night but the improved materials like odor-reducing copper-infused workout gear. Just check out the Copper Fit x Gwyneth collection!
And it's not all about the clothes, but also the essentials that make your workout better, whether you are heading up a mountain or to the yoga studio. Let's check out what trending essentials you need to know about.
 What to wear + a few essentials: 
For Barre/Pilates/Yoga:
Special socks:

 

For Barre and Pilates workouts, socks with little grippers on the bottom keep your feet on solid ground, so sweaty feet don't take you down! Traction, stability, and comfort are all key for Pilates and Barre. Copper

 

Fit Cushioned Gripper Energy Socks

 

are a good option with cushion and arch compression benefits with the sure-footed confidence of a gripper. Pilates people love open holes on the top of the feet to keep feet well ventilated and cool, and some prefer toeless socks too- allowing free toe movement and for better posture and balance.

A mat:

 

 What are people looking for most in a mat? Grip and cushion are essential. No slipping off the mat in your 'downward dog!' A durable mat that doesn't lose its cushion with extra thickness wins. There are even mats with memory foam, which feels great on your knees and joints when you're performing a lot of floor work. And if eco-friendly material is on your wish list, there are many options on the market.
For Strength Training at the Gym:
The right sneakers:

 

Don't throw on your running shoes. You want flat-bottom shoes for weightlifting for a few reasons: they will help you get deeper into movements like squats while keeping your ankles steady. A flat-bottomed sneaker also lets you hold your trunk upright, so you're not leaning forward or back. Simply put: if you are doing squats, deadlifts, or lunges, you want a stiff sole shoe with a flat bottom and good side support. 

Gloves:

 

Gloves make lifting more comfortable with their extra cushion, for sure. They also help relieve pressure and provide additional support for hands and fingers.

 

Copper Fit Compression Gloves

 

do double duty, providing support and compression technology, which encourages warmth and blood flow and has been shown to provide faster relief of muscle soreness and joint pain. And you don't have to sacrifice style - have you seen the

 

Gwyneth Paltrow X Copper Fit Compression Gloves

? They might just be the best-looking ones around!
For Running and Walking: 
Breathable clothes:

 

Comfort and cool are essential when working out outside.  Lightweight, soft fabric with moisture wicking that can go from the afternoon walk to the Costco run is even better.

 

Copper Fit's Women's Short Sleeve Scoop Neck Shirt

 

checks all those boxes and even has a flattering cut with a slightly longer back length for the perfect added coverage. And because it's copper Infused, it's odor-reducing.
Your smartphone:

 

You'll walk longer and reach your goals if you track your steps! Try the "Walkster" app to stay motivated. Another of our favorites: put on a good podcast. You can track your steps and feed your mind at the same time!
Don't forget!

 

Always apply sunscreen anytime you are walking, overcast or sunny. And if you aren't walking because of aches and pains, try a

 

 knee brace support

 

or

 

arch relief

. They'll provide the

 

support

 

you need to get active.
For Hiking: 
A Map:

 

Don't head out without a map! The days of fumbling with paper maps are SO 15 years ago. Alltrails.com will help you get from A to Z, and it's fun to just search for new adventures.  
Hydration:

 

Reusable plastic bottles are great because they are lightweight, but look for something that is next-generation recycled, BPA-, BPS- and phthalate-free. Collapsible bottles are great for hiking, too. 

Comfortable layers:

 

Weather can change rapidly when you're heading up a mountain! Lightweight layers that can pack up small when you aren't using them are perfect hiking gear. So are comfortable leggings that protect your legs from sun and bugs.

 

Copper Fit Leggings

 

have a 4-way stretch for unrestricted movement, are anti-chafing, and also have a convenient side pocket so you can easily reach for your phone and snap that on-the-go pic.

For Hi-Impact Exercise Class: 
Padded shorts for cycling:

 

If you like the idea of a spin class or outdoor cycling, but it just seems like it might be too, um, uncomfortable- try padded shorts. They help keep pressure off the points of contact with your saddle, and if you are riding outside, they can also help absorb the vibrations from your bike tires on the asphalt.
Headband:

 

Maybe it's an 80's throwback, but sweatbands really work! They are cute and sleek too- and are a fashion statement in and out of the gym, great for going from workout to work. But they aren't just for fashion- they DO keep the sweat out of your eyes, especially great for biking or running. 
Copper Fit Tip: Foam Roller! Whatever the exercise, foam rolling your muscles after improves recovery time by eliminating lactic acid that builds up. Make it a part of your regimen, and you won't regret it!
Whatever your workout, having the right essentials makes a difference. The important thing is to get out there and get active! If aches and pains are holding you back, Copper Fit compression technology is here to help.
 Get moving today!