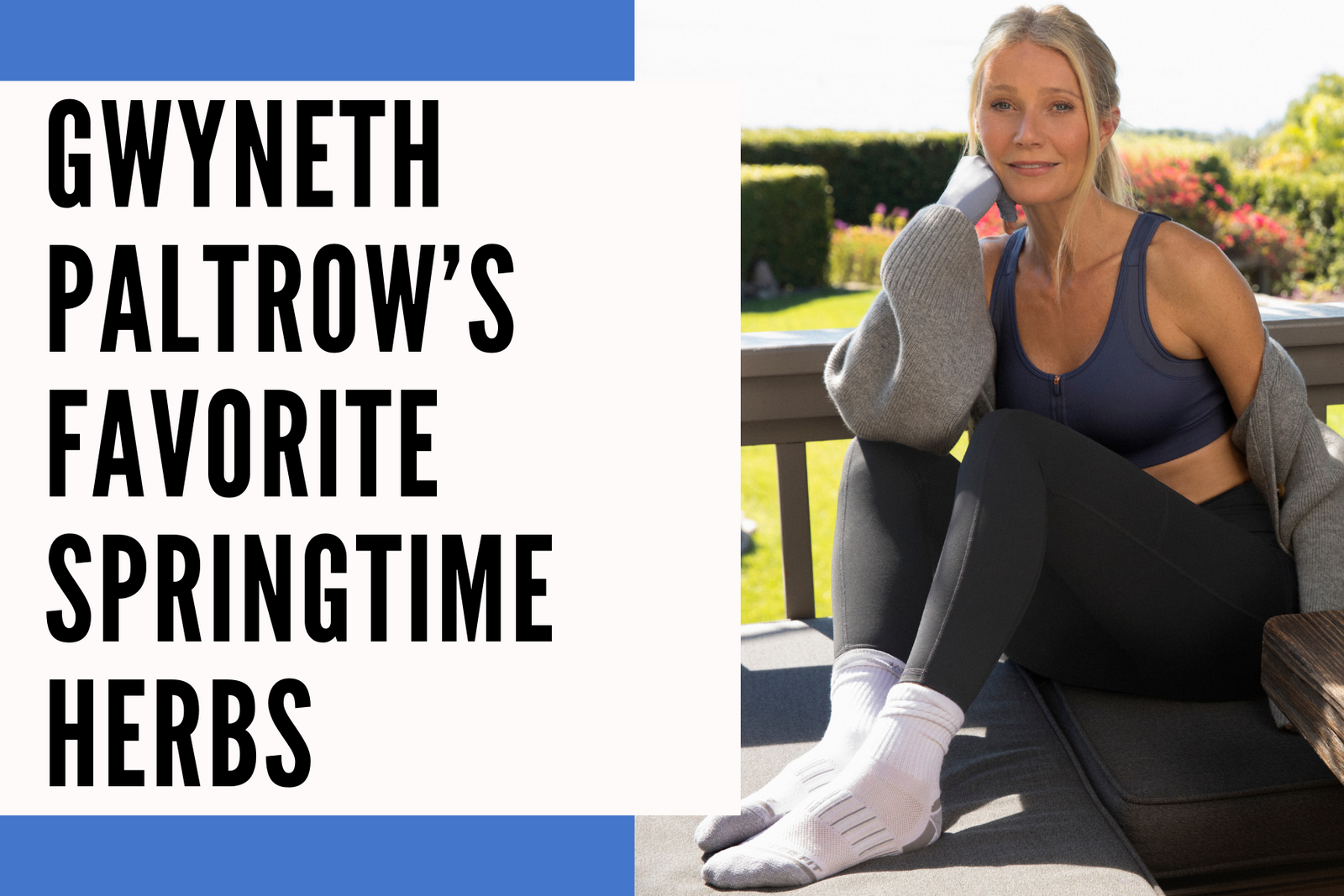 Spice up your Spring with Some of Gwyneth Paltrow's Favorite Herbs
We can always count on Gwyneth Paltrow for innovative and delicious recipes. The famous actress, wellness guru, and fantastic cook is known for inspiring us with her lifestyle and introducing us to new, unusual, and good-for-you herbs - often things we have never heard of before. 
So why are herbs such a big deal? Let's dive into what makes them a part of a healthy lifestyle and a GP favorite!
Polyphenols. If you thought herbs and spices were just about taste, we have some good news! First off, polyphenols, nutrients that occur naturally in plants, are a total nutritional superhero found in many herbs and spices, especially dried forms. Polyphenols are also found in food like broccoli, berries, and dark chocolate, but actually, herbs generally contain higher levels than those foods. The reason they are so fantastic: they are "reducing agents" that work with other antioxidants (like Vitamin C, for example) to protect the body from lots of bad stuff and reverse damage in your cells caused by oxidative stress (the environment, aging, lifestyle stressors). That oxidative stress leads to sickness and chronic diseases like cancer. Yay for polyphenols!
Herbs have healing powers for the mind and body. Medicinal herbs - or herbal medicine - have been around for, well, forever. We're talking CENTURIES. It's the first kind of medicine, and it's pretty amazing that it's still around today. Many people rely on herbs for wellness and healing. Two of the most mainstream uses that you have probably used are chamomile -  known as a digestive relaxant but also used for the mind to help with insomnia,  and echinacea (used for colds and sore throat.) Ginkgo has long been used for brain health and is even science backed by studies treating mild to moderate dementia patients. The list of herbs used for mind and body goes on and on.
There's a longstanding tradition of herbal remedies. Herbs have been the basis of many medicinal treatments for thousands of years. Indigenous traditional medicine, Ayurveda, and Traditional Chinese medicine are some of the first forms of wellness that have survived and are thriving. Now, at least 20% of Americans use some form of herbal care  -  in skincare, supplements, cooking, and more.
Now we know why Gwyneth Paltrow, who knows a thing or two about wellness, loves herbs. We researched and found out what some of her favorites are and how she uses them. Here are three favorite powerful herbs that are  "GP inspired":
Turmeric: From GP's Golden Milk, which introduced us to a new hot, healthy drink - to her current Cauliflower, Pea, and Turmeric Soccata recipe in her cookbook The Clean Plate: Eat, Reset, Heal, she knows all about the power of turmeric! 
What is it: Turmeric is a spice from the root of Curcuma longa, which is part of the ginger family. History traces it back 4,000 years, first deriving from the Vedic culture in India. A great source of turmeric in the diet is curry powder. 
Benefits: This is legit! Curcumin is the main active ingredient in turmeric. Exciting studies show that curcumin may have powerful effects on the brain and body, and the anti-inflammatory properties of curcumin mean that it may help reduce the chances of heart disease, cancer, Alzheimer's disease, and more.
Turmeric is delicious in food - it's known for being a central component of curry.  It is also often used as a topical for just about anything. Got tennis elbow? How about a combo of anti-inflammatory turmeric - orally or topically with the Copper Fit Gwyneth Paltrow Compression Elbow Sleeve: the compression may help improve circulation and reduce muscle recovery time, as it also provides more support and more flexibility when wearing the sleeve
Ashwagandha: This ancient herb has been "new" to most of us over the last year or so. GP famously introduced us to it in an SNL spoof - but it's a real thing with real benefits! There is a reason GP got onto ashwagandha and opened our eyes to it, too - now it's used in her skincare line, and we've found it in her smoothies too.
What is it: Ashwagandha is an adaptogenic Ayurvedic herb from an evergreen shrub growing in Asia, Africa, and parts of the middle east.  
Benefits: The reason it's a  big deal - it's often used to combat and reduce stress. It's been used for thousands of years to increase energy and improve concentration. Classified as an adaptogen, which means it's a substance that helps the body cope with stress, many studies support its benefits. 
Take a tip from Gwyneth and add it to your food too! And don't forget the skincare. It helps in the production of natural skin oils. 
Copper Fit Tip: Want to start your day in a low-stress way? Try GP's Morning Smoothie with ashwagandha, and head out for a cortisol-lowering walk. You can even slip on Gwyneth Paltrow x Copper Fit Cushioned Energy Socks. Ultra comfort with triple loop terry footbed for impact cushioning and an arch compression band for gentle lift and support.
Ginger: Digging into Paltrow's recipes, the ever-popular Carrot Ginger soup is one of her favorite detoxes. Ginger is on the top of the ingredients list of many of her recipes. Of course, we had to know why! 
What is it: This one goes way back - like 5,000 years ago! Ginger has been a valuable herb for not just medicinal uses but also spiritual. It's from a perennial plant most likely native to southeastern Asia. It's got a vibrant smell and is used for many different things: spice, flavoring, food, and medicine. It was so valued in ancient times that in the 14th century, a pound of ginger cost as much as one sheep!
Benefits: good thing it's much more accessible today. The list goes on and on about how this super spice can heal and help the body. Ginger is really great for the body for many reasons and is often referred to as the "healthiest" of the spices. The main reason is gingerols, a substance in ginger that helps to tame inflammation and turn off pain-causing compounds in the body. Most know it as a way to settle nausea. Studies have even tied ginger to lowering blood sugar levels and improving heart disease risk factors in people with type 2 diabetes.
Ginger is versatile; no wonder it's one of GPs favorites for recipes. It's easily thrown into a smoothie and soups. It can be grated on top of a favorite dish or stir fry, and a great way to settle your tummy is to sip ginger tea.
How about this plan for carpal tunnel sufferers: try incorporating some ginger into your diet for its anti-inflammatory effects, or use it as a topical. Then, slip on Copper Fit x Gwyneth Paltrow Compression Gloves. They are designed to help improve circulation and reduce swelling and are lightweight and form-fitting with an open finger design for total feel and control.
This Spring, consider tapping into the power of herbs in your diet, skincare, and wellness routine. Just a quick search for any of your favorite recipes, and you are sure to find some power-packed herbs included. So head to the farmers market or the store and add herbs into your daily routine! Take it from someone who knows about wellness, Gwyneth Paltrow.