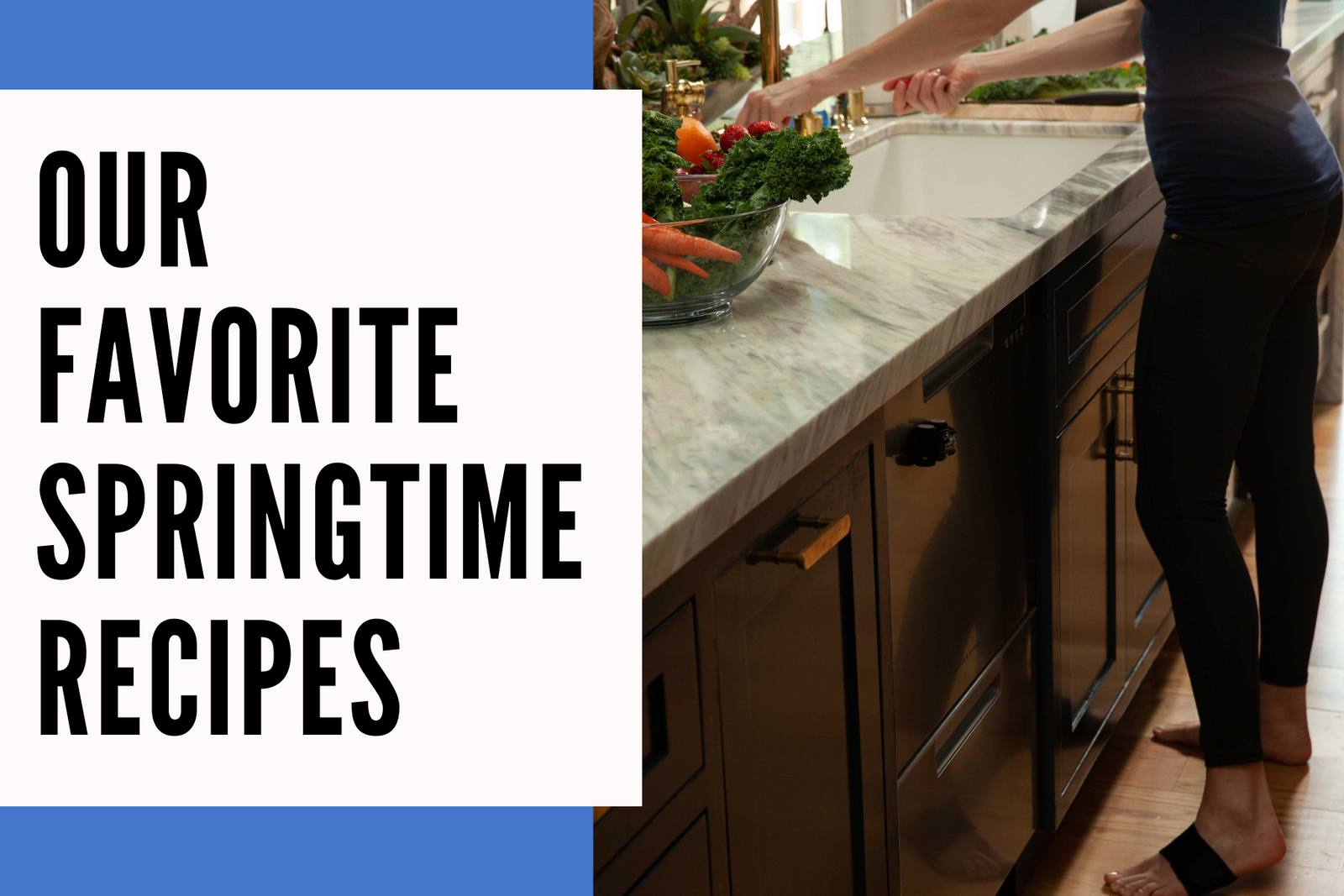 Our favorite springtime recipes
Spring is the perfect time to re-energize, re-set, and get motivated!
Usually, spring renewal focuses on the mind and body - or spring cleaning - but it is also a great time to rethink your meals. Spring eating is all about natural flavors from the garden, colorful plates, and healthy, lighter fare.  
If you have a garden or live near a farmers market, chances are you have access to one or two of the most popular spring "crops"  - here are our power-packed favorites:
Leafy greens: Arugula,  spinach, romaine, and lettuce are nutrition superheroes - full of  iron, folate, magnesium, and fiber and low on sodium and cholesterol. 
Squash: This is full of lots of good stuff, including manganese - a mineral that helps boost bone strength and aids the body in processing fats and carbohydrates.
Carrots: This high fiber veggie helps keep blood sugar levels in check and may help lower diabetes risk with vitamin A and beta-carotene.
Let's work these spring favorites - and more - into our spring cooking!
Here are our 5 Top Spring Recipes:
Easy Weeknight Dinner
Spring means outdoor evening walks after work and taking in the fresh air. Put an extra spring in your step with the Copper Fit Energy Sport Socks. The cushion will help you go the distance - with very happy feet! 
Something we don't want to do this spring is spend the whole evening in the kitchen! After an evening stroll,  it's easy to throw together a sheet pan dinner. 
Light Go-to Breakfast or Brunch 
The mornings are light and bright; consider getting up early for a morning workout, then powering up with a healthy protein-packed breakfast with fresh tomatoes from the garden. The Copper Fit Rapid Relief Knee Wrap helps achy knees keep moving. Whether your knee needs a boost of heat or a blast of cold, the fast-acting, 2-in-1 relief is built right in, providing support all day. 
Try this recipe: Breakfast Tomatoes from healthyrecipesblogs.com. This post-workout easy-to-bake breakfast is perfect for the beginner cook with tomatoes rich with the antioxidant lycopene, eggs, and great herbs (and topped off with delicious parmesan.) It's Keto too! 
Cooking Together
Don't be alone in the kitchen - make it fun by cooking with your kids or partner. Use the kitchen time to chat and catch up on your day, and before you know it, dinner is served! The key is to find a recipe that's a breeze. 
Try this recipe: Crunchy Chili Lime Shrimp from tasteofhome.com. It's a fresh dinner that takes just 30 minutes. What's not to like with a combo of shrimp, avocado, and tortillas? This one is an adult and a kid-pleaser.
Fresh From Your Own Garden Meal 
What's in your garden? You've probably got some tomatoes, zucchini, and maybe a summer squash? If not, they are undoubtedly at your local farmers' market or grocery store and full of good nutrients - and plain old delicious! Get as much of these powerhouse veggies into your day as possible; we've got just the recipe for you. 
Copper Fit Tip: Struggling with hand pain after a day of gardening or chopping up your veggies for dinner prep? Copper Fit Hand Relief Compression Gloves are built to give your hands more power and support your everyday tasks. The form-fitting, open-finger design fits like a second skin-supporting your wrist, palm, and fingers for the TLC your hands need.  
Try this recipe: Backyardboss.com's Garden Vegetable Pie is full of the best your garden (or your local farmer's market) offers. It is a simple recipe that serves as a great main dish, and veggies are the stars of the show, all nestled in a pie crust and topped off with a delicious cheesy spread. 
Clean Spring Eating with Gwyneth Paltrow
We were so inspired by GP, we partnered up with her and made her our very first female brand ambassador! Gwyneth created her very own line of Copper Fit products to help people look and feel their very best by incorporating beautiful calming colors into our high performance compression gear. Just try the Gwyneth Paltrow x Copper Fit Compression Knee Sleeve and you'll see what we mean. It provides that all-day support and comfort for whatever the day - or your workout - demands, offering medium to strong compression to support your knee without limiting mobility. Gwyneth is also an incredible cook too, and her cookbooks are a staple to nutritious eating, never skimping on taste. Her Crunchy Spring Veggie Grain Bowl is the perfect way to combine all of the ingredients we love in a quick and easy to eat and serve way. Indeed the ideal combo of good proteins, good fats, and nutrient-dense veggies. Great to pack for the office or any on-the-go lunch and can easily be prepped ahead of time. 
Try this recipe:  Crunchy Spring Veggie Grain Bowl - one of our favorites from GP's clean eating cookbook, The Clean Plate - which contains recipes focused on healing the body from within.
Renew your commitment to wellness this spring! With colorful meals full of veggies and the support you need from Copper Fit  - you got this!