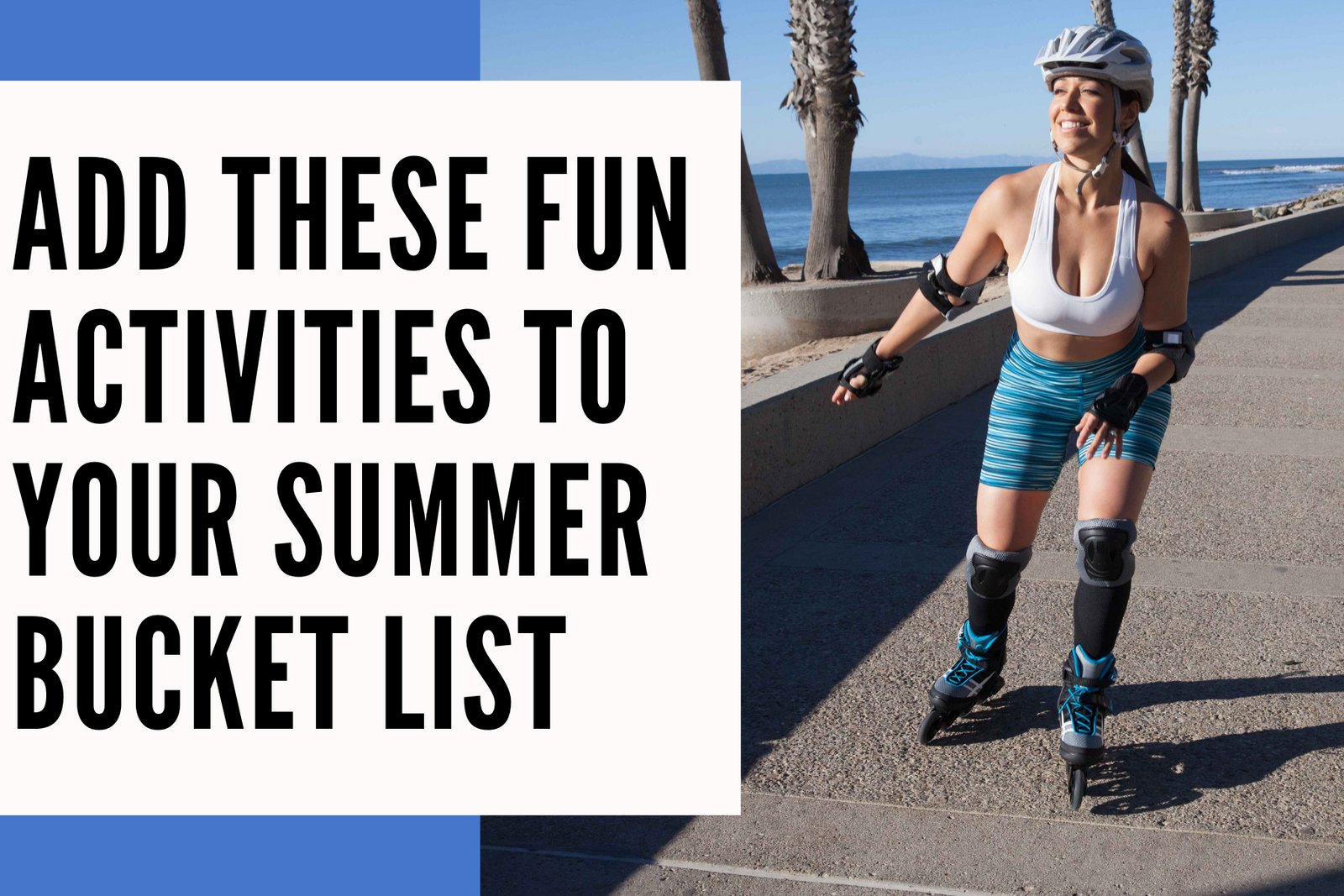 Fun & Easy Activities to Add to Your Summer Bucket List
And just like that - summer is here! Chances are you are just getting into the summer groove. Have you had a chance to think about what you want to experience this summer? Forget your "to do" list of chores. Focus on making memories with friends and family. We'll help you think "out of the box" with some bucket list items!
Get on the water! Lakes, the ocean, the pool, and being on the water are a huge part of summer. Try something new this year.
Go fishing. Maybe fishing has never been on your radar, but it's an incredible way to relax and unwind. Being out in nature has been shown to diminish depression and offset stressful situations. Plus, spending time with your fishing partner builds strong bonds with hours of conversation - or side-by-side peace and quiet too!
Get in a canoe! Enjoying kayaks and canoes is an excellent activity for young and old of any fitness level. You can go at your own pace. Start on protected small lakes, bays, and slow rivers to develop skills.  If you have arthritis, carpal tunnel, or other hand pain, try Copper Fit Compression Gloves. These form-fitting, open-finger gloves fit like a second skin. At the same time, the Sure Grip Technology across the palms and fingers provides added power and confidence and a non-slip grip perfect for kayaking. They help provide support, relief, and recovery from sore muscles and painful joint stiffness in your wrists, palms, and fingers.
Hit the white water. Does white water rafting sound scary? It doesn't have to be. You can be in a paddle boat, managing your oar, or taking the more laid-back route with a guide doing the paddling for you. Many rafting trips involve exhilarating rapid rides and some calm and enjoyable river cruising, the best kind of adventure! 
Connect with nature.  Spend time outside regularly to be happier and more productive. Gwyneth Paltrow makes a point to get her kids in the sun daily for vitamin D and fresh air. The time spent outdoors is an excellent distraction from screen time for kids - and adults!
Try stargazing. This might mean you need to get out of town. City lights make it hard to see dimmer stars and planets in the sky and check the weather report for clear skies. Download a free stargazing app - Star Walk 2 is highly rated. Find a lovely meadow, lay down a blanket, and let the wonder of the sky and space take you to another place!
Host a bonfire. First, ensure no burn bans are in effect in the area where you want a bonfire. Once that's checked out, consider locations around you with fire pits (you might need to reserve them in advance). You can also invest in a portable fire pit that you can use wherever you go. You can also check out online tutorials to build your own. Then, invite your friends, bring the wood, a cooler full of beverages, a good playlist, and a speaker to play your favorite tunes. Oh, and don't forget the s'mores!
Learn something new outdoors. Enjoy the temperate weather and pick up a new hobby! You can learn to shoot a bow and arrow or get a bocce ball set and head to the park with friends. Whatever you do, make sure your feet are up to the task. The Copper Fit Energy Sport Ankle Sock is the perfect sock for all sports and hobbies. They have targeted compression around your arch to help ease discomfort and fatigue and superior venting and wicking, perfect for being on the court, the trails, or just running around town. 
Copper Fit Tip: Try pickleball! It's an excellent workout for agility, reflexes, and hand-eye coordination and is also perfect for older players who used to play tennis but have hip, shoulder, knee, or other joint problems.
Be a kid again. Summertime is a nostalgic time for adults. While thinking about the memories of summer passed, revisit some activities that brought you the most joy.
Head to the waterpark. Waterslides aren't just for kids - unleash your inner child! It's the perfect way to cool off on a hot day. Next time you take your kids, bring your suit too. If you don't have a nearby water park, think about an adult slip 'n slide (they do exist). They are long enough to let you build up some speed and bigger and sturdier, of course. Guaranteed laughs for sure!
Ride a rollercoaster. Whether it's an amusement park or the county fair, get your most adventurous friends together and head to the rides. That first hit of adrenaline, and you will remember the thrill! Here's the thing: as long as you are physically able, you are never too old to hop on a rollercoaster. (Just be aware if you have a back, neck, or heart condition.) Remember - riding the roller coaster is safer than riding in your car. The goal of a roller coaster is to make you feel like you are flying, so enjoy the ride!
Join a summer sports team. Sports teams are one of our favorite childhood memories. There are adult sports leagues everywhere for pretty much any sport you can think of. And not only is it a great way to stay physically active, but it also taps into that wonderful feeling of teamwork—one of the best things about them is creating solid and lifelong friendships with your teammates. Don't let aches and pains keep you from playing - there are many support products to help you stay active. If nagging knee pain is an issue, try the Copper Fit Freedom Knee Sleeve. It has moderate compression to help with support and comfort and 4-way stretch for ultimate flexibility for whatever activity you take on. Plus - copper-infused means odor-reducing so you can wear it all day.
The perfect summer combines relaxation, active fun, and a balance of adventure and downtime. Maybe go on a great hike, then head home to nap in a hammock. It sounds like the perfect summer day to us!