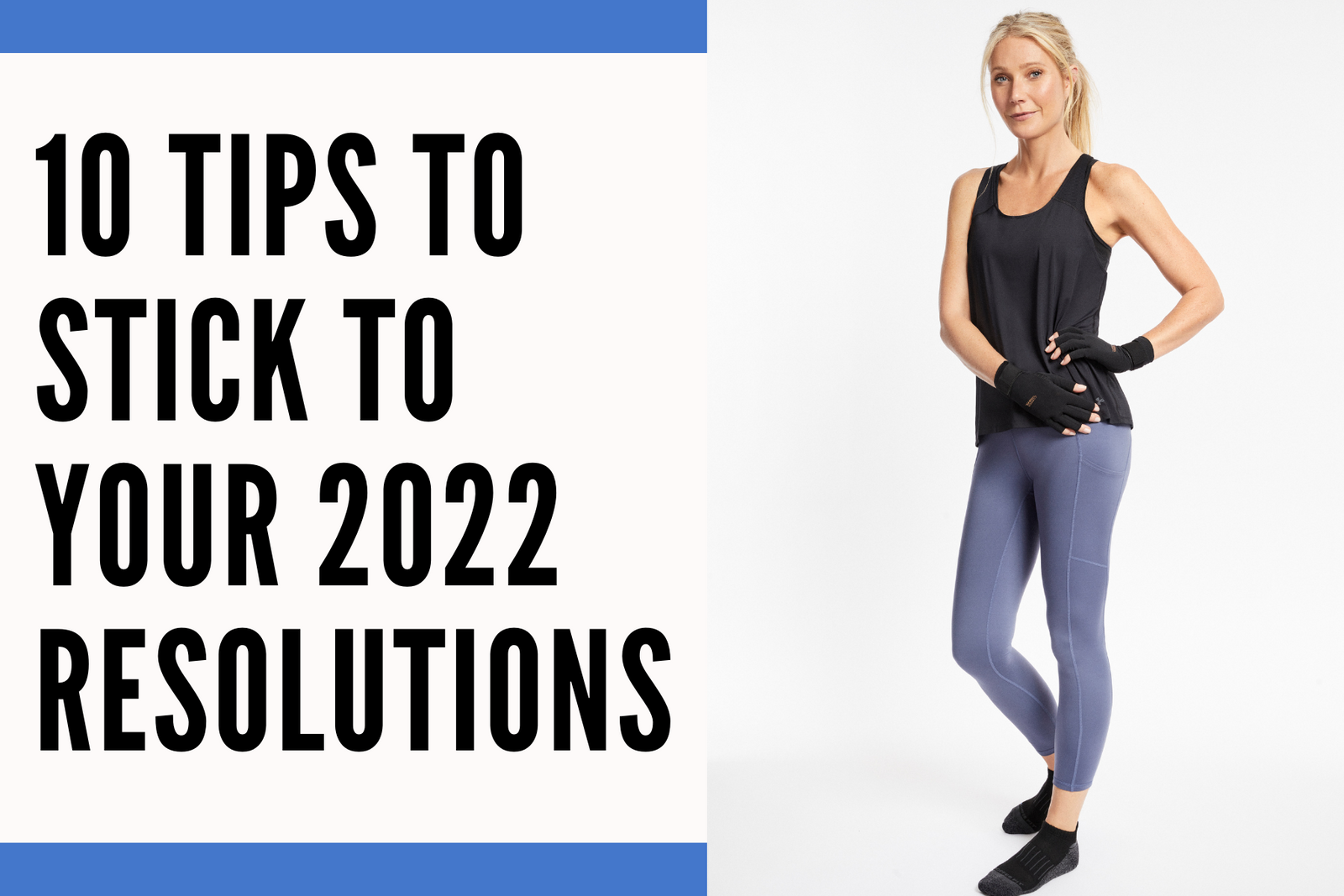 Coliena Rentmeester
Here we are- already just about a month into the New Year. It's time to check in. How are your 2022 resolutions going? Wait! Keep reading; no judgement here. If you are losing steam, you're not alone!
In 2018, Strava, a social network for athletes, analyzed more than 31.5 million fitness records from its users and found that the second Friday in January is what they call "Quitter's Day" - that's right. Pretty much a couple of weeks into the new year is when people are collectively giving up and throwing in the towel on resolutions.  
Breaking old habits and starting new ones is hard, and we get it. Let's turn that around. We've collected our 10 best tips to help motivate and energize you to stay on target with your goals. Hopefully, some of these connect with you and will help you live your best 2022!


Ten Ways to Keep Your New Year's Resolutions:
Get Support! 
Join a group with the same goal as you. Maybe it's a writer's workshop, a running club, or a quilting club! Start with google- an app like meetup.com or a Facebook group is a great way to connect with people as well.
Seek out people that can mentor you. Gwyneth Paltrow's 2010 New Year's resolution was to learn to meditate- what did she do? "I asked three amazing people to share how they achieve this bliss. Their approaches are different, but I think they are pretty much landing in the same spot." Learning from others is a great way to stay motivated!

Find a friend with the same goal- or maybe talk a friend into doing that half marathon with you! Doing it together is more fun, and you hold each other accountable. You're less likely to sleep in past that 6 am run if you are meeting up with a running partner. 
Research suggests: Link a new habit to an old habit.  
Want to tighten and tone?  You brush your teeth every morning (old habit), do 30 squats while you brush (new habit). 

If you are looking to save more, every time you get that morning coffee, transfer the same amount into your savings. (This may also cut down on your daily coffee habit!) 

Do you end your night with a cup of tea? Perfect time to take your vitamins. Keep them next to each other in the pantry!
It's ok to readjust: Make smaller, more concrete goals.
If you can't get to the gym four nights a week after work, that means it's probably unrealistic for your schedule and your energy level. Decide that two nights is achievable. 

COPPER FIT TIP-

 Ask a close friend to be your gym buddy; you can give them some extra motivation by surprising them with a 

Copper Fit Gift card

 

for Valentine's Day just to say thank you! Nothing says "I love my body" like wrapping it up in compression- it's like giving yourself an all-the-time hug!
A green drink every morning sounds fantastic, but you (and your taste buds) might burn out fast. Instead, mix it up at breakfast with oatmeal or a yummy egg omelet to keep things fresh.

Make sure goals realistically align with your lifestyle. Want to travel more? A travel goal of one trip a season is a budget buster. Focus on getting away twice a year. You'll have more time to plan and save!
Make a detailed plan. 
If your goal is running a half marathon, sign up for the run (give yourself a few months!) and plan out every run from now until race day. Look up a plan online.

"Read more" is a great goal but probably won't happen unless you block out time and prioritize. Twenty minutes a day, three times a week is realistic to start. Put it on your calendar. Your lunch break is a perfect time to start. 

Make sure you have the equipment you need for success. Try 

compression

 technology if you are working out a lot and battling soreness. 

Copper Fit Compression Socks

 

will help keep your legs ready for the next hike and help repair for the next run.
Avoid past failures. 
Take the temptation away. Cutting out weekday cocktails seems easy until your friends want to meet up for an after-work drink and you aren't sure if you have the willpower to skip a glass of wine. Try a coffee and dessert meet-up, or push plans to a Friday happy hour.   

Hate the gym? Try something else. Do some sit-ups, squats, and lunges while watching Bravo. It will fly by as you are glued to the drama!

Don't let a sore knee stop your fitness goals. If an injury keeps you sidelined, treat it. 

Copper Fit Knee Sleeves

 give you the support you need in all the right places to keep you moving.
Track your progress and treat yourself.
Use technology to track your progress. Being honest with yourself and keeping yourself accountable for your goals keeps you on track. Watching your success is a huge motivator! Some to try: Noom for weight loss and Strava to track your workouts. 

If you want to skip the technology- an excellent old-fashioned post-it on the bathroom mirror does the trick. Check the box every day you get up for the early workout. And hi-five yourself in the mirror while you're at it! 

Celebrate victories! You did ten yoga classes in February? Treat yourself to some new 

Copper Fit Leggings

. You'll want to wear them all day, every day- and you 

can

because the copper- infused fabric makes them odor reducing!
Be flexible with your end goal. 
Balance is key! Don't let strict goals make you a stressed-out mess or too hyper-focused. If your goal is a healthy life, don't miss a fun bday dinner to get your 4th gym day in.

Maybe zero sugar is just impossible, making you grumpy and sugar obsessed. Give yourself two desserts a week.  

Want to cook more at home? Make it easier with a freezer full of healthy options, so they are always on hand. Frozen food doesn't necessarily mean unhealthy. Our favorite go-to is cauliflower crust veggie pizza!
Keep a journal.
Writing in a journal keeps you accountable and provides time to reflect and help you figure out what is or what isn't working. 

Journaling also gives you the chance to record failures to avoid taking those same steps in the future- and helps you to realize how you lost your focus.  Also-  track your successes and write them down. It feels so good! 

Thoughts are probably 90% of achieving a physical goal—check in with your feelings and thoughts that might be sabotaging your goals. 
Totally commit. 
Post your goals on Facebook, tell your friends, spread the word! It will hold you more accountable.

Talk to people! There's a lot of knowledge around you that can help you achieve your goals. Talking about your hunt for a new job can open doors and increase connections. 

Ask a loved one to check in with you once a week to see if you're on track.   
Be grateful for any forward momentum.
Maybe you aren't hitting goals, but you are headed in the right direction with small victories.

Give yourself grace, don't give up, just keep going.
And hey, not every resolution has to be SO big! Last year our favorite wellness guru, Gwyneth, made us laugh- she was filming a video and dropped the face oil she was talking about - and also dropped the f-bomb! After a panicked look into the camera, she declared her New Year's resolution: "I am committed to swearing less in 2021. Whoops." 
Little things count too!
So keep focused, big or small. Your resolutions matter. You got this!