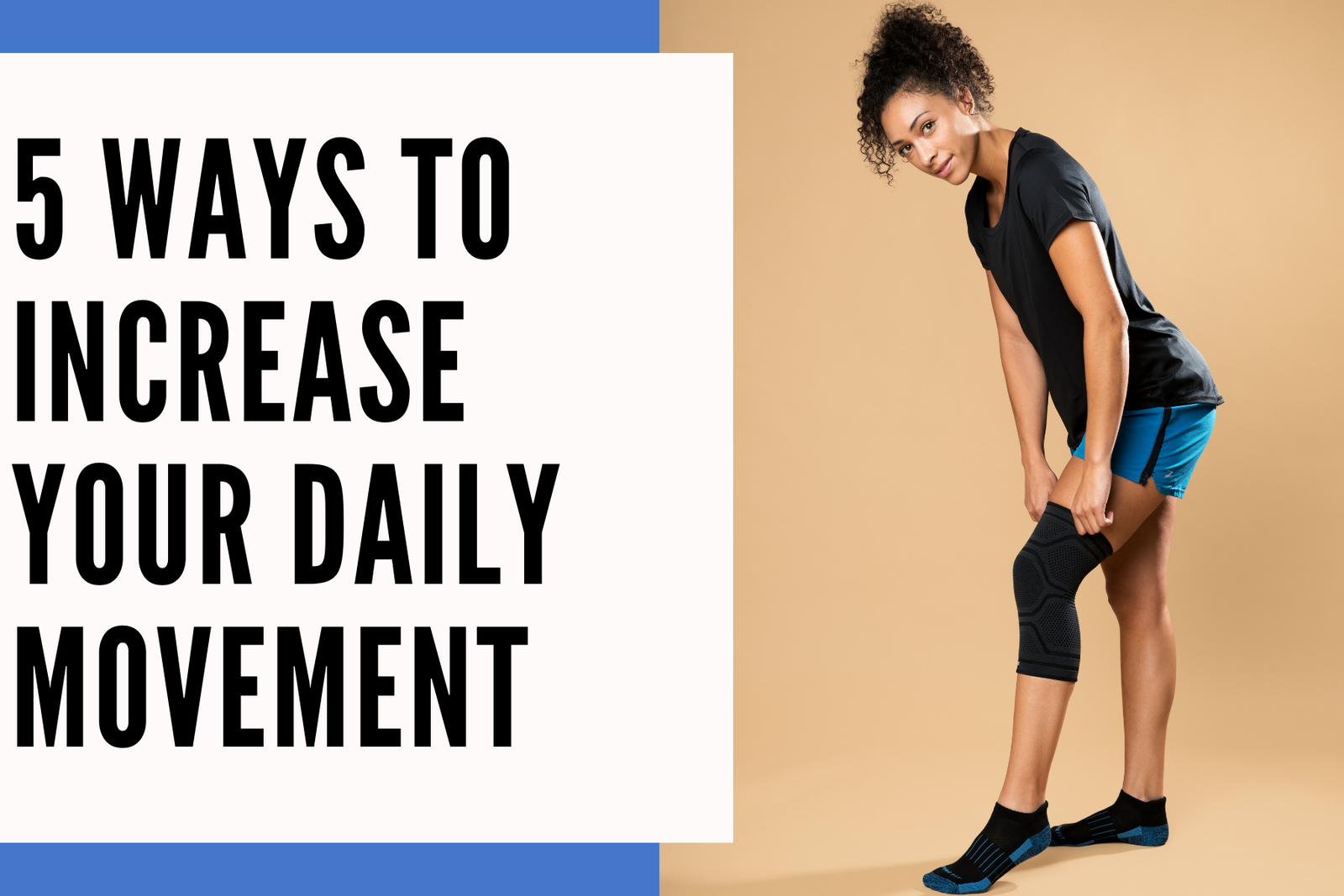 5 ways to increase your daily movement
Movement matters!
Most people spend over half the day sitting in a car, at a desk, or on the couch. Sorry for the bad news,  but sedentary behavior has been linked to a shorter lifespan and many medical problems. 
So  - get up and move! You don't have to run a marathon - even a little movement throughout the day helps. Don't stress about big workouts at the gym. Decide to move your body every day, throughout the day instead, because moving a little more, a little more often, is just what your body and mind need!
And guess what - whether you are pushing a cart at Costco or walking the treadmill at the gym - all movement counts. Short, light-intensity interruptions to sitting are very effective!
Some obvious reasons to move:
It's good for your heart, bones, muscles, the whole body!
Moving burns calories and keeps you fit.
It "ups" your metabolism. 
Moving regulates energy levels - a walk around the block is more invigorating than a cup of coffee.
It's excellent for naturally lowering cholesterol and blood pressure.
You'll have a healthier lymphatic system - it relies on your motion to circulate lymph fluid around the body. 
Moving makes your brain happy. Studies show that moving more earlier in life is linked to less cognitive decline later in life. 
An added benefit - moving is a great mental break too! As Gwyneth Paltrow told CNBC, it's her "time to let the brain disengage from input."
And not so obvious reasons! Just to name a few… 
It can prevent increased insulin release, which can lead to chronic inflammation (which is often the cause of illness and disease).
Moving is a natural stress fighter and mood lifter! It's as simple as this: you move, release endorphins, and relax.
Movement helps emotions move through our bodies. It's a great natural emotional release.
You'll sleep better. 
It's linked to better hormonal health.
Moving makes you feel healthier and boosts confidence.
It is excellent at combating mental fatigue.
Are you inspired to move more?
Great! We've got some tips on working a little more movement into your day.
5 Tips to Get Moving!
1. Set a reminder, make a ritual, then reward yourself. 
To set a reminder - use alerts on your phone or smartwatch throughout the day as a reminder to stand, walk around the block, or even do 50 crunches! You'll be amazed that the more you do, the stronger you feel, and you'll meet your goals before you know it.
For the ritual - tie something you do every day to something physical. Maybe it's a split squat while you brush your teeth or walk the long way around the office to "earn" your next cup of coffee. One of our favorites is a stroll around the block after dinner every night before settling in on the couch.
For the reward - once you've closed your move rings on the Apple Watch for a month,  or you've done a lunchtime walk at the office ten days in a row - treat yourself! Schedule a massage, or grab a friend and get a well-earned pedicure.
2. Make it fun. If the thought of hitting the gym sounds horrible, pick up a new hobby where you can move and not even realize it because you're having so much fun. Don't let aches and pains stop you - the Copper Fit Freedom Knee Sleeve provides mild to moderate compression for all-day comfort and provides relief of muscle soreness and joint pain that might keep you from feeling like a kid again! Gardening is a great calorie burner - lots of stretching, squatting and carrying. The best part is that you'll have a beautiful yard as a result.  You can also revisit something you did as a kid, like flying a kite  - or badminton, anyone? And there is no reason not to pick up a racquet when the Copper Fit Elite Elbow Sleeve can provide that same support and compression technology as the knee sleeve. You'll not only bring activity into your life- but joy too! If you don't have time for a hobby, make your everyday activities more fun with more movement. Blast a great playlist while you clean the house - you'll move faster and just may bust a move!
3. Make it a great time to connect with a friend. Long walks while chatting are good for your body and your soul. Instead of sitting in your cube eating lunch every day, get a co-worker to take a lunchtime stroll with you. Meet a friend at a local park or walk with your neighbor around the block after dinner. Grab your air pods and catch up with your mom on the phone while you walk around the house. You'll have double the endorphins from moving AND connecting!
4. Sneak it in: When you are working, it's really easy to sit all day.  Take the stairs, park further away, and schedule a walking meeting with a coworker. If you work at home: put your printer as far away as possible and make yourself go up and down the stairs whenever you print something out.  Even stretching while working helps blood flow through your body and increases your range of motion. If you are watching TV, do a plank during every commercial. And playing counts, so give your kids a piggyback ride.  And lastly - stand when you can: watching a soccer game, talking on the phone, chatting with friends while the kids are playing at the park, it's all better than sitting!
5. Make it comfortable and set yourself up for success: "Look good, feel good!"  - make sure your body is comfortable and ready to move. Invest in comfortable shoes with lots of support and wear them more often. You'll be more apt to park at the end of the parking lot for extra steps if you feel good. Wearing a cute pair of basic black leggings is the new way to wear "athleisure" every day. Throw on some Copper Fit Women's Full Length Everyday Leggings. They are flattering dressed up or down and are copper-infused, which means odor-reducing, so you wear them all day and be ready for short walks whenever you have a few minutes. 
Copper Fit Tip: Get a dog. A guarantee for a more active life! You'll gain a friend and won't have an excuse to not get your steps in every day!
So get up and move. Don't fixate on big workouts and big fitness goals- just move every day. The benefits are enormous, and it's easier than you think. A little bit goes a long way to better health!