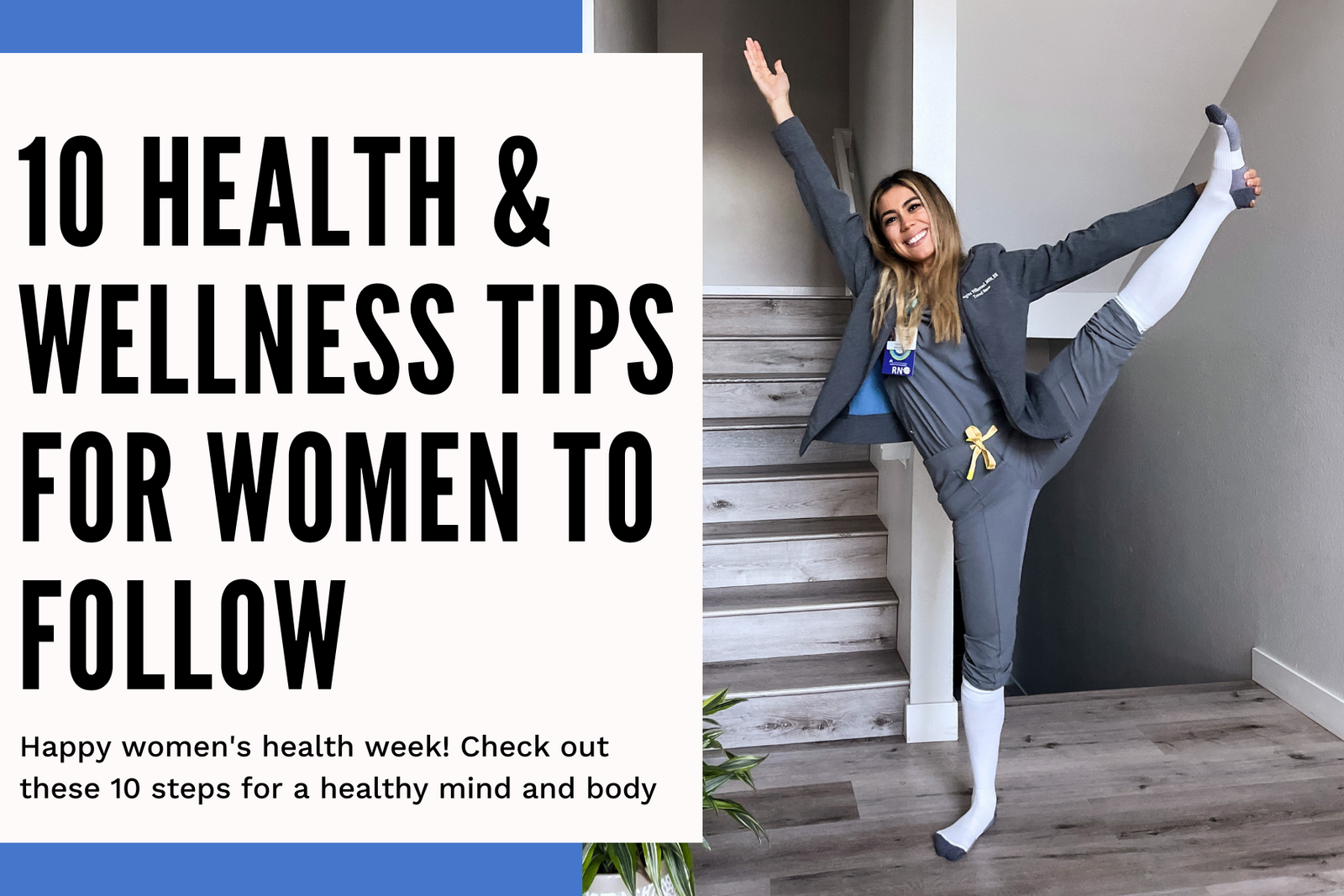 10 health & wellness tips for women to follow
Hey ladies, time for a wellness check-in!
Living a vibrant, happy life includes everything from what you eat to the health of your relationships. There's a lot of info about what you can do daily to take care of yourself, and it can get a bit overwhelming. 
We break it down into ten easy and doable things you can start doing today for a better tomorrow.
Manage Stress 
Everybody has stress in everyday life - the key is managing it. And the fact is, women are twice as likely to suffer from severe stress and anxiety as men. We all know stress has many physical and emotional effects if we don't get it under control - from headaches to depression, anxiety, and more. It can lead to problems from infertility and hormones, too. For women specifically, it's essential to take charge of stress. 
Try this: Yoga and Pilates. Maybe you've heard about these two workouts' strengthening, stretching, and lengthening benefits, but they are also great for stress reduction because they soothe the nervous system. It's a true mind-body connection that helps you focus the mind on the breath and ease muscle tension while improving blood circulation, all working on taming stress and anxiety.  So grab some Copper Fit Cushioned Gripper Energy Socks (perfect for the Pilates reformer and Yoga, too!) and try a class, go at your own pace, and enjoy.
Exercise 
To have a healthy life, you need to add exercise. We promise you'll learn to love it, and the endorphins will get you hooked! Moderate daily exercise is linked to a healthy heart, lower stress levels, weight management, and more. 
Try this: We love a simple walk. It's packed with so much good stuff: the beauty of nature, a little vitamin D, fresh air, and cardio. Don't let aches and pains stop you; there are plenty of ways to support your body, like the Copper Fit Pro Series Compression Ankle Sleeve, which supports you in all the right places to provide the support you need to get your workout in. 
Eat Whole Foods 
Forget the diets and skip the latest fad. If you go back to the basics and eat natural whole grains, fruits, vegetables, and proteins, limiting processed food, you are on your way to good health. Whole foods retain their fiber and nutrients often removed in processed food. 
Try this: Whole grain bread instead of refined flour bread, skinless chicken breast instead of chicken nuggets, blueberries instead of fruity cereal. Focus on nutrient-dense whole foods, as well as portion size. 
Prioritize Sleep
"I'll sleep when I'm dead" is NOT true. Sleep is an essential function that keeps you healthy and keeps your brain functioning properly. (And it's a vital mood regulator!)  Prolonged inadequate sleep can lead to significant health and psychological problems. Whether your sleep number is 7, 8, or 9-hours, prioritize hitting your number every night for optimal health. And - women need a bit more sleep than men.
Try this: Exposure to light suppresses melatonin secretion, a hormone that influences circadian rhythms, so put the phone away at least an hour before sleep. Create a nighttime ritual (preferably without sleep-disrupting alcohol) - like a cup of tea, a book, or a relaxing warm bath. 
Hydrate
Every cell, tissue, and organ in your body needs water to work correctly.  You can't have good overall health if you aren't adequately hydrated, period. Experts generally agree that eight 8-ounce glasses a day is a good idea.
Try this: Make drinking water more enjoyable by adding lemon, cucumber, or fruit to your water. Eat more water-rich foods like watermelon, tomatoes, peaches, cantaloupe, soups, and smoothies.
Ditch the sugar
We all know that sugar is not good for a truly healthy life -the American Heart Associations' recommendation for women is even lower than men's -  just six teaspoons a day.  
Try this: First - everything in moderation! Sometimes you need to treat yourself to that big slice of cake. But for day-to-day, you can use all-natural ingredients like dates in smoothies or a bit of honey in your tea to have some sweetness without the refined sugar. 
Stay on top of your annual wellness checks
Come on, ladies, this is easy! Once a year, get your women's wellness check - screenings include a mammogram, a pap smear, blood pressure check, etc. Another good idea: a skin check every year too. It's a no-brainer!
Try this: Schedule them at the same time every year - maybe it's before your birthday - good health is a gift to yourself! If you are nervous, bring a friend to sit with you while you wait, and treat them to lunch when you are done.
Maintain close relationships 
Close relationships are vital for overall wellness. Even studies show this. Relationships increase your likelihood of surviving physical health problems for one and increase your level of happiness.
Try this: Schedule time with close friends on your calendar. Shoot to call one "old friend" a week and one meet-up with a local friend every week. Prioritize date night! Relationships need to be "watered," just like plants.
Connect with nature every day 
When you let yourself take in the beauty around you in nature, chances are positive, and calming emotions arise. It's so beneficial for our stress levels to get outside.  
Try this: Get your hands in the dirt and garden! This will bring more appreciation for nature into your life as you nourish your seeds and watch your flowers grow.  If sore hands due to arthritis keep you from "digging in," try Copper Fit Compression Gloves.
Fill your Tank! Self-Care helps you take better care of others.
Self care is vital to a healthy, happy life. Women wear a lot of hats. Caretakers in nature, we usually don't put ourselves first on the list. Take time every day to nourish yourself; you definitely can't take care of others when you are completely burned out. 
Try this: For 20 minutes (at least) every day - do what YOU want! Maybe that's watching Bravo; perhaps it's a run outside. Treat yourself! Gwyneth Paltrow X Copper Fit Core Support Leggings are the perfect thing to slip on to be ready for whatever the day brings. They are like a second skin with tummy control and a high-rise design with figure-flattering flat-lock seams and core support. The 4-way stretch fabric molds to your every move -whether in the yoga studio or on the couch! 
Speaking of Gwyneth, her wellness plan seems in sync with ours; she told W Magazine: "For me, wellness has always been about a lot of sleep, hydration, exercise, sweating (I sit in an infrared sauna daily), walking and eating nutrient-dense foods."  We'll take it from a woman who knows wellness! Hopefully, this is helpful on your wellness journey too.